~THE DARK SERIES~
Last Updated: March 06, 2015 11:14:48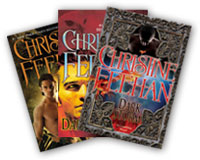 Welcome to the home of my Carpathians. The extraordinary nature of these men and women make it a pleasure for this writer to revisit their land again and again in my novels. The Carpathians fire my imagination!
Their stories allow me to explore everything from shapeshifting, to wild, exotic and dangerous animals, to the nature of true love (and passion). I hope you enjoy the Carpathians and their Dark Series!
---
~LATEST NEWS~
I have a new Dark Series Trilogy in the works and part one will be released in September of this year. The first book, Dark Lycan, has Fenris and Tatijana. Fenris is Dimitri's brother. I was so excited when he started talking to me because I knew his brother wouldn't be far behind! The second book, Dark Wolf is Skyler and Dimitri's story.. a story that is a decade in the making... and will finally be published in January of 2014!! The third book, Dark Blood, in the new trilogy is a Lycan hunter by the name of Zev who is lifemate to Bronnie, Tatijana's sister. It is scheduled to be coming out in Septembe of 2014. The paperback re-issue of Dark Lycan in paperback will be coming out May 2014.
---
~COMING SOON: DARK SERIES TRILOGY~
Dark Lycan in Hardcover
September 3, 2013

Fenris and Tatijana

Dark Wolf in Hardcover
January, 2014

Skyler and Dimitri
Dark Blood in Hardcover
September, 2014

Zev and Bronnie
---
~NEW DARK SERIES RE-ISSUES~
---
~DARK SERIES ON FACEBOOK~
---
~THE CARPATHIAN LANGUAGE~
As mentioned in the two special appendices of Dark Demon, you can now hear the Ritual Words and some of the healing chants of the Carpathians -- IN CARPATHIAN! The best way to hear these is with the speakers turned up high.
Sarna Rituaali, "The Ritual Words" -- The complete chant (2 minutes and 58 seconds) is currently available in these formats:
Kepä Sarna Pus (The Lesser Healing Chant)-- The complete chant (1 minute and 54 seconds) is currently available in these formats:
En Sarna Pus ("The Great Healing Chant") -- The complete chant (6 minutes and 24 seconds) is currently available in these formats:
Visit the Members Section for much more about the Carpathian language.
---
~ NEW CARPATHIAN CHANTS ~
Carpathian Lullabye — This song is sung by a mother to her child while the child is still in the womb or when the threat of a miscarriage is obvious.
arrangement for chorus and violin ensemble (1 minute, 39 seconds) — currently available in these formats:
Song to Heal the Earth — This is the earth healing song that is used by the Carpathian women to heal soil filled with various toxins.
choral arrangement (3 minutes and 3 seconds) — currently available in these formats:
---
~DARK SERIES FAQ's~
FAQ: I have an idea for your next Dark Series book. How can I submit it?
I do not use material from readers in any of my books, so I will not be able to consider any suggestions you have about future books. However, please write to me about any other subject. I love hearing from you.
FAQ: In what order should I read the Dark Books?
Although each of my "DARK BOOKS" can stand alone reading the books in order gives a much richer vision of the Carpathian world. The order is as follows:
The SCARLETTI CURSE in NOT part of the dark series but a descendent of the couple in that book is the lifemate in DARK SYMPHONY
---
~DARK SERIES RELEASES~


DARK LYCAN
Christine Feehan. Berkley Hardcover. September 3, 2013. Hardcover, 400 Pages. ISBN: 978-0425-268339.

CLICK HERE for more about this book
DARK STORM.
Christine Feehan. Berkley Jove. October 4, 2012. Hardcover, 384 Pages. ISBN: 978-0425255803

Publisher's Weekly Hardcover Bestseller List
Barnes & Noble Hardcover Bestseller List
New York Times Hardcover Bestseller List
New York Times Print / Ebook Bestseller List
USA Today Bestseller List
Walmart Bestseller List


CLICK HERE for more about this book
DARK PREDATOR
Christine Feehan. Berkley Hardcover. September 6, 2011. Hardcover, 400 Pages. ISBN: 0425241971.

Publisher's Weekly Hardcover Bestseller List
Barnes & Noble Hardcover Bestseller List
New York Times Hardcover Bestseller List
New York Times Print / Ebook Bestseller List
USA Today Bestseller List
Walmart Bestseller List
ABA IndieBound Hardcover Fiction
Wall Street Journal Hardcover Fiction

CLICK HERE for more about this book
DARK PERIL.
Christine Feehan. Berkley Hardcover. August 31, 2010. Hardcover, 400 Pages. ISBN: 0425236595

CLICK HERE for more about this book
DARK SLAYER
Christine Feehan. Jove Books. September 1, 2009. Hardcover, 416 Pages. ISBN: 0425229734.

New York Times #1 Bestseller List
USA Today Bestseller List
Publisher's Weekly Bestseller List
Barnes & Noble Mass Market Bestseller List
Bookscan Bestseller List
Borders Bestseller List
Amazon Bestseller List
Walmart Bestseller List

CLICK HERE for more about this book
DARK CURSE.
Christine Feehan. Berkley Hardcover. September 2, 2008. Hardcover, 384 Pages. ISBN: 0425223434

New York Times #1 Bestseller List
USA Today Bestseller List
Publisher's Weekly Bestseller List
Barnes & Noble Mass Market Bestseller List
Bookscan Bestseller List
Borders Bestseller List
Amazon Bestseller List
Walmart Bestseller List
Boston Glob Bestseller List
Washington Post Bestseller List
Wall Street Journal Bestseller List

CLICK HERE for more about this book
DARK POSSESSION
Christine Feehan. Jove Books. August 28, 2007. Hardcover, 368 Pages. ISBN: 0425217094.

New York Times Bestseller List
Publishers Weekly Bestseller List
USA Today Bestseller List
Barnes & Noble Mass Market Bestseller List
Borders Bestseller List
Amazon Bestseller List
Booksense Bestseller List
Wall Street Journal Bestseller List
Washington Post Bestseller List

CLICK HERE for more about this book
DARK CELEBRATION.
Christine Feehan. Berkley Hardcover. September 5, 2006. Hardcover, 384 Pages. ISBN: 0425211673

New York Times Bestseller List
USA Today Bestseller List
Publisher's Weekly Bestseller List
Barnes & Noble Mass Market Bestseller List
Bookscan Bestseller List
Amazon Bestseller List
Walmart Bestseller List

CLICK HERE for more about this book
DARK DEMON
Christine Feehan. Jove Books. April 2006. 500 Pages. ISBN: 0-515-13885.

New York Times #2 Bestseller List
USA Today #2 Bestseller List
Publisher's Weekly #2 Bestseller List
Barnes & Noble Mass Market Bestseller List
Bookscan Bestseller List
Borders Bestseller List
Waldens Bestseller List
Amazon Bestseller List

CLICK HERE for more about this book
DARK SECRET.
Christine Feehan. Jove. February 1, 2005. Pages: 400. ISBN: 0-515-13885-1.

Amazon Bestseller List
USA Today Bestseller List
Publisher's Weekly Bestseller List
New York Times Bestseller List
Barnes and Noble mass market Bestseller List
Barnes and Noble romance Bestseller List
Barnes and Nobles online Bestseller List
B Daltons Bestseller List
Borders Bestseller List
Bookscan Bestseller List
Waldenbooks Mass Market Bestseller List
Waldenbooks Bestseller List
Walmart Bestseller List

CLICK HERE for more about this book
HOT BLOODED (anthology)
Christine Feehan, Maggie Shayne, Emma Holly, and Angela Knight. Jove Books. Pages: 400. September 2004. ISBN: 0-515-13696-4.

USA Today Bestseller List
NY Times Bestseller List
Amazon Bestseller List
B&N Bestseller List
Publisher's Weekly Bestseller List
Siren Bestseller List
Waldenbooks Bestseller List

CLICK HERE for more about this book
DARK DESTINY.
Christine Feehan. Leisure, Dorchester Publishing. July 2004. ISBN: 0-8439-5050-1.

NY Times Bestseller List
USA Today Bestseller List
B Dalton Bestseller List
B&N Bestseller List
B&N Online Bestseller List
B&N Mass Market List
Amazon Bestseller List
Walmart Bestseller List
Waldens Bestseller List
Waldens Mass Market List
Publisher's Weekly Bestseller List
Siren Books Bestseller List
Walmart Bestseller List

CLICK HERE for more about this book
DARK MELODY
Christine Feehan. Dorchester Publishing Company, Incorporated, November 2003. ISBN: 0843950498.

NY Times Bestseller List
USA Today Bestseller List
Publisher's Weekly Bestseller List
Waldenbooks Bestseller List
B Dalton Bestseller List
B&N Bestseller List
B&N Online Bestseller List
Amazon Bestseller List
Sirenbooks Bestseller List
Ingram Bestseller List

CLICK HERE for more about this book
THE ONLY ONE (anthology)
Christine Feehan, Susan Grant, Susan Squires. Leisure (Paranormal Romance Books), Dorchester Publishing, May, 2003, 384 pages. ISBN: 0-8439-5170-2.

NY Times Bestselling List
Waldenbooks Bestselling List
Borders Bestselling List
USA Today Bestselling List
B Dalton Bestselling List
Amazon Bestselling List
B&N Bestselling List
B&N Online Bestselling List
Walmart Bestselling List

My contribution to the anthology is Dark Descent, part of the Dark Series.

CLICK HERE for more about this book
DARK SYMPHONY.
Christine Feehan. Jove (Paranormal Romance Books), Penguin and Putnam Publishing, February 2003, 352 pages. ISBN: 0-515-13521-6.

Publisher's Weekly Bestseller List
New York Times Bestseller List
USA Today Bestseller List
Waldenbooks Bestseller List
B. Dalton Bestseller List
Borders Bestseller List
Barnes and Noble Bestseller List
Barnes and Nobles Online List
Amazon Bestseller List
Siren Books Bestseller List
Walmart Bestseller List
Rhapsody Book Club Bestseller List

CLICK HERE for more about this book
DARK GUARDIAN.
Christine Feehan. Leisure (Paranormal Romance Books), Dorchester Publishing, May 2002.

NY Times Bestseller List
USA Today Bestseller List
Barnes and Nobles Bestseller List
Waldenbooks Bestseller List
Sirenbooks (Australia) Bestseller List
Amazon Bestseller List
Borders Bestseller List
Walmart Bestseller List

CLICK HERE for more about this book
DARK LEGEND.
Christine Feehan. Leisure (Paranormal Romance Books), Dorchester Publishing, January 2002.

Waldenbooks Bestseller List
Barnes and Nobles Bestseller List
USA Today Bestseller List
New York Times Bestseller List
Siren Books Bestseller List
Walmart Bestseller List
AFTER TWILIGHT (anthology).
Amanda Ashley, Christine Feehan, and Ronda Thompson.Love Spell, Dorchester Publishing, September 2001.

Barnes and Nobles Bestseller List
Waldenbooks Bestseller List
USA Today Bestseller List
New York Times Bestseller List
Siren Books Bestseller List
Walmart Bestseller List

My contribution to the anthology is Dark Dream, part of the Dark Series.

CLICK HERE for more about this book
DARK FIRE.
Christine Feehan. Love Spell (Paranormal Romance), Dorchester Publishing, August 2001.

Barnes and Noble Bestseller List
Waldenbooks Bestseller List
USA Today Bestseller List
New York Times Bestseller List
Siren Books Bestseller List
Walmart Bestseller List

CLICK HERE for more about this book
DARK CHALLENGE.
Christine Feehan. Love Spell (Paranormal Romance), Dorchester Publishing, November 2000.

USA Today Bestseller List
Waldenbooks Bestseller List
Amazon Bestseller List
Siren Books Bestseller List
Walmart Bestseller List

CLICK HERE for more about this book
DARK MAGIC.
Christine Feehan. Love Spell (Paranormal Romance), Dorchester Publishing, July 2000.

USA Today's Bestseller List (July)
Waldenbooks Bestseller List
Amazon Bestseller List
Siren Books Bestseller List
Walmart Bestseller List
2001 Rita Finalist in Paranormal

CLICK HERE for more about this book
DARK GOLD.
Christine Feehan. Love Spell (Paranormal Romance), Dorchester Publishing, April 2000.

Amazon Bestseller List
Siren Books Bestseller List
Walmart Bestseller List
Border's Paranormal Romance Bestseller List

CLICK HERE for more about this book
DARK DESIRE.
Christine Feehan. Love Spell (Paranormal Romance), Dorchester Publishing, Dec. 1999.

Amazon Bestseller List
Siren Books Bestseller List
Walmart Bestseller List

CLICK HERE for more about this book
DARK PRINCE.
Christine Feehan. Love Spell (Paranormal Romance), Dorchester Publishing, July 1999, 320 pages.

Amazon Bestseller List
Siren Books Bestseller List
Walmart Bestseller List



CLICK HERE for more about this book