---
Interviews, Book Schedule and a Thank you!
First, I want to thank everyone who bought Desolation Road. I am so grateful to all of my readers and am excited about how well the book did! Even though the book was released early in some places, you pre-ordered the book and those sales counted toward the bestseller lists. It's not too late! . . .
Read more
---
GhostWalkers, Carpathians, Leopards, Shadow Riders and Bikers ... Oh My!
I thought I'd update everyone on what books are coming out and what I'm writing now. Toxic Game released in paperback recently and I'm so happy to have Draden and Shylah's story out once more. These two stole my heart and are one of my most favorite couples. I think Toxic Game is one of the most . . .
Read more
---
Brothers: Isai, Iulian and the Ancients
How important is brotherhood? Do men form bonds outside of the family that are as strong as any "sisterhood"? For Isai Florea this is something he has to face in Dark Illusion. While he tried to keep himself from becoming a monster, sequestering himself at the monastery, his brother Iulian was f . . .
Read more
---
The Woman in the Mirror: How we see ourselves in the heroines we read
It's important to me that my heroines reflect a wide variety of women. Julija, from Dark Illusion, is more powerful than she knows. She thinks things about herself and about love that is filtered through some terrible life experiences. She was taught from an early age not to trust Carpathian males. . . .
Read more
---
RESPECT — From the Brotherhood
How does a young, human woman find herself respected by a group of ancient warriors? The answer is simple — she earns it. Lorraine, our heroine in Dark Sentinel does exactly that. The "brotherhood" are group of ancient Carpathian warriors who incarcerated themselves in a secret monastery h . . .
Read more
---
20 Year Anniversary of Dark Prince
Twenty years ago the top song in the US was Christina Aguilera's Genie In A Bottle and in the UK it was Westlife's If I Let You Go. The Sixth Sense came out as did The Boondock Saints, both of which became cult classics. But, what I was most excited about back then was the release of my first novel . . .
Read more
---
Playing the "If I were to …" Game!
In celebration of Dark Sentinel I have a fun game for you to play! Reader's Entertainment Magazine asked me to play a game they call "If I were to. . . " and then we thought it would be fun to ask readers to play as well here on my blog. I hope you'll play along. Put your answers in the commen . . .
Read more
---
Dark Sentinel Heroine: Lorraine Peters
I've had a vague idea for a heroine for quite some time, but I only knew certain things about her in the beginning. I knew she had to be strong, both physically and mentally. I knew she was a fighter. And I knew she had experienced a great tragedy that left her alone in the world on many levels. . . .
Read more
---
The Creation of a Hero: Andor Katona
Some heroes come to me easily. They speak to me in a way which may sound crazy, unless you're an author, but is true. When I say that they speak to me, I mean that I know what their voice is. I know if they're calm or volatile. I know if they are old fashioned or modern. I have a clear idea of who t . . .
Read more
---
The Last Hope for The Ancients
High up in the Carpathian Mountains is a monastery hidden away called the Retreat in the Veil of Mists. Until recently, this monastery was the last refuge for those ancient Carpathian warriors who hoped to keep humanity safe by locking themselves away and working to keep the darkness at bay. Thes . . .
Read more
---
Dark Sentinel Excerpt From Chapter 4 Audiobook
CLICK HERE TO LISTEN Andor has lived a long time and the loneliness has become unbearable. Fighting vampires, going out as a warrior with honor was something he could accept. He knew he'd received more than one killing blow. This was the end for him. And as he lay there waiting for death to take h . . .
Read more
---
Where to Start Reading Each Series: Dark Series
I'm one of those people who like to read an entire back list when I come across an author I love. I'm excited when I see they have this huge body of work because I know I love their writing and it's like finding buried treasure. But, I realize not everyone is like that. Some people find a long-estab . . .
Read more
---
Time for a Dark Celebration! And some Gifts!
I love the Christmas holiday so much! It's always been a special time for me and for my family. I realize not everyone celebrates Christmas, but I hope you'll celebrate your holiday with me this winter season! WalMart is releasing Dark Celebration with a limited edition cover. You can only get t . . .
Read more
---
Fun Friday- In Review
I wanted to round up a few fun things to share with you regarding my new release; Leopard's Blood. First is The Reading Cafe Review site, which has a review, excerpt and giveaway. The Reading Cafe Review, Excerpt and Giveaway Here's the book trailer for Leopard's Blood. It's a bit steamy! . . .
Read more
---
Participating in #Horrorweek
It's getting closer to Halloween, one of my favorite holidays! So when I saw that Goodreads is doing a #Horrorweek I thought it would be fun to participate! Today, I'd like to ask YOU if you like scary stories or stories with creatures in them? How scared do you like to be? Or do you prefer somet . . .
Read more
---
Getting Social
I attended the NOLA StoryCon event last weekend and it was so wonderful to meet and talk to readers. I wish I could travel to every state and meet everyone in person. But, since it's not likely that I can meet everyone, I wanted to share with you that I do participate in some online social media. So . . .
Read more
---
Catching Up with News and Interviews
I thought I'd do a round-up of news to make sure you didn't miss anything fun! RT Book Reviews — "Unbosoming" interview The link text Unbound Worlds — featured in "Best Sci-fi and Fantasy Books of September 2017" The link text Reading in Pajamas — excerpt The link text Nigh . . .
Read more
---
Sympathy for the Devil: Carpathian Villains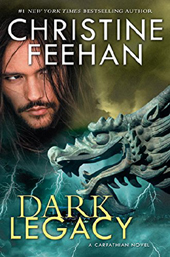 When you have heroes that are as powerful as the Carpathians it can be a challenge to create a villain or villains to challenge them. In the beginning of the Dark Series the main villains are a society of humans who hunt vampires and Carpathians alike, but more importantly we discover that the origi . . .
Read more
---
What Has Happened to Aiden Savage?
Aiden is one of the "Golden Twins", brother to Julian Savage and lifemate to Alexandria. In Dark Gold we find him living in San Francisco, California and discover that he has embraced life with humans in a way other Carpathians have not. This makes him a valuable warrior to his Prince. But, he is ne . . .
Read more
---
There's Something About Gary
Some of this blog has spoilers in it and I've tried to identify for you which books the blog may have spoilers for. So you've been forewarned! Read at your own risk! SPOILERS FOR DARK BLOOD/DARK PROMISES Gary Jansen, the American scientist who we meet in Dark Magic, eventually becomes Gary Dar . . .
Read more
---
The Lifemate Mythology — Dark Legacy
With over 30 books in this long-running series that began in 1999 the challenge is always how to keep it fresh and expand the Carpathians and their mythology. At the time the first book in the series, Dark Prince, was published, there weren't any vampire books being written for the romance genre. Th . . .
Read more
---
The New Guard — Unsworn Ancient Warriors
In a monastery high in the Carpathian Mountains is a brotherhood of warriors. All they have left is their honor and each other. Unlike many others of their kind who were sent out in the world by their Prince in order to find their lifemates and protect the human race from vampires, they came here to . . .
Read more
---
Dark Legacy Goodreads Celebration!
Starting Tuesday September 5th I'll be posting an exclusive blog each day to celebrate the release of Dark Legacy! Here's the line-up! Sept. 5th- The New Guard- Unsworn Ancient Warriors Sept. 6th- The Lifemate Mythology Sept. 7th- There's Something About Gary Sept. 8th- What Has Happened to Aide . . .
Read more
---
Romance and Character: Lessons Learned from Dark Promises, Power Game and Bound Together
Each romance is special and that includes the romance you find between my hero and heroine for each book I write. The couple is as unique together as they are as individuals and what each couple learns or teaches us about romance is varied as well. In celebration of #RomanceWeek 2017 I wanted to sh . . .
Read more
---
30 Books of Dark
Dark Carousel is the 30th novel in my Dark series, also called the Carpathian novels. I wrote the first in the series, Dark Prince, in the late 1990's during a very difficult time in my life. I'd lost my son and writing became a sort of anchor for me. I'd always written, even as a child, but this ti . . .
Read more
---
A Little Humor in the Shadows
Assassins with the ability to travel using shadows still need a little levity. Shadow Rider is full of drama, suspense and action (yes...and romance) but I try to break up the constant adrenaline or dark action with romance and family, some of which comes with a bit of humor. You can't have that man . . .
Read more
---
Men of the Monastery: Dark Promises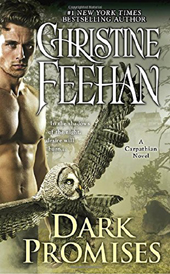 High up in the Carpathian Mountains sits a monastery that is both sanctuary and self-imposed prison to ancient Carpathian warriors. These men know they are dangerous. They hope to keep others safe and prolong their existence by remaining within the walls of the monastery and keeping their darkness a . . .
Read more
---
Dark Series
News
The first chapter of Dark Song is on the website HERE

The book trailer for Dark Song is ready and you can watch it HERE

We're about to start work on the script for the Dark Song book trailer! I'm really excited to see what they do with this one.

The Dark Song cover is finally here! I really love it!

The mass market paperback for Dark Illusion is set to release on August 4th, 2020!

I finished Dark Song! I am so happy with it. It is very romantic. It's been turned into the publisher and releases Sept. 1, 2020.

Dark Song is Ferro and Elisabeta's book and it will be released Sept. 1, 2020. I am very near the end of writing it and am so happy with how romantic this has turned out!

The next Dark series book is Dark Song which will release in 2020.

Thank you to everyone who made Dark Illusion the #3 bestseller on the New York Times combined list!

Dark Illusion was named one of EIGHT SCI-FI AND FANTASY ROMANCES TO CHECK OUT IN SEPTEMBER by SyFy Wire online! You can read the article and see other great books HERE

The new book trailer for Dark Illusion is out!

More from my Goodreads Blog! RESPECT- From the Brotherhood talks about Lorraine gaining the respect of the ancients!

My new blog- A Gathering of Carpathians talks about Dark Sentinel, being in California and more! You can read it over at Goodreads

For a limited time you can get a signed copy of Dark Illusion at Barnes & Noble!

Celebrate the 20th anniversary of the release of Dark Prince with us on my Goodreads blog!

Excited to see Amazon's Kindle Love Stories featuring Dark Sentinel on their video podcast. You can watch it HERE!

The Dark Illusion book trailer has been completed and approved. It will be put in the online community sometime in July! Did you know that Dark Legend will be re-issued in mass market in late November? It will come with a new cover which we'll reveal later this year.

In case you missed the Dark Sentinel blogs you can read them before the Aug. 6th paperback release! Dark Sentinel Heroine: Lorraine Peters and Playing the "If I were to ..." Game!

We've just started working on the Dark Illusion book trailer this week and I can't wait to see how it turns out!

Dark Sentinel will be out in paperback Aug. 6th. You can read the first chapter HERE

Dark Illusion is Isai and Julija's book and it's completed. It will be released Sept. 3rd 2019.

USA Today has an exclusive audio excerpt from Dark Sentinel! Exclusive!

Learn more about the creation of Andor, the hero in Dark Sentinel - The Creation of a Hero

Dark Sentinel is now available in hardcover!

The Dark Sentinel Book Trailer is now available to watch!

Dark Legacy is now out in paperback!

Listen to an audio excerpt from Dark Sentinel - Chapter 4 Excerpt

Talking about the ancients on Goodreads - The Last Hope for the Ancients

The cover for Dark Sentinel has just been revealed. . . check it out!

Dark Sentinel will be out Sept. 4, 2018 and will feature Andor, an ancient from the monastery and Lorraine, a new character to the series.

Wondering what's going on with Gary? Find out here with this post on my blog: There's Something About Gary.

I expanded on information regarding Lifemates in this blog post over on Goodreads: The Lifemate Mythology.

We are currently reviewing ideas for the Dark Sentinel cover!

More News