Christine Feehan's
2018 Book Catalog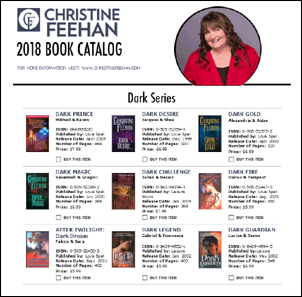 This book catalog includes Christine's book covers, ISBN, & pricing info. If you are looking for a basic printable booklist that only lists Christine Feehan's books in order, please click here.
Adobe Acrobat Reader is required to view the pdf version of the book catalog. Get it here for free!
To read the document in Acrobat Reader right now, press VIEW NOW below.
To save the pdf file on your hard drive, first read the document in Acrobat Reader and then press the "Save A Copy" button
.
After you press "Save A Copy", a window will pop up. Click the
button ("go up a folder") until "Save in:" says "Desktop". Then press the Save button, and your file will start downloading onto your desktop.
Any problems with downloading? Let my webmaster know.