~THE LEOPARD SERIES ~
Last Updated: March 08, 2017 16:04:37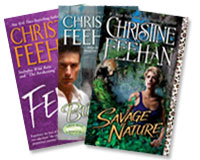 Welcome to the home of my Leopard Series stories. I'm happy to announce that Cat's Lair was released May 5 of this year and Wild Cat will be available November 24th!!
I'm glad to finally get back to this series with a new story that keeps tugging at me like crazy. I love the rainforest and am working my way back to my Leopard people!
---
~COMING SOON: LEOPARD'S BLOOD~
---
~THE LEOPARD SERIES FAQ's~
FAQ: Will you continue with the leopard series?
Yes, I have plans to develop this world and give each of the shapeshifters a story.
FAQ: I have an idea for your next Leopard Series book. How can I submit it?
I do NOT use material from readers in any of my books, so I will not be able to consider any suggestions you have about future books. However, please write to me about any other subject. I love hearing from you!
FAQ: In what order should I read the books?
Although it is not required, they are meant to be read in the following order:
BOOK #1: THE AWAKENING (story in Fantasy & Fever)

BOOK #2: WILD RAIN (story also in Fever)
BOOK #3: BURNING WILD
BOOK #4: WILD FIRE
BOOK #5: SAVAGE NATURE
BOOK #6: LEOPARD'S PREY
BOOK #7: CAT'S LAIR
BOOK #8: WILD CAT
BOOK #9: LEOPARD'S FURY
BOOK #10: LEOPARD'S BLOOD
---

~THE LEOPARD SERIES RESEARCH PAGE~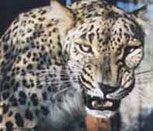 This page is a collection of information that inspired and aided me in creating my stories. In time I will be adding more to this section.
Click here
to visit the Leopard Series research page.
---
~THE LEOPARD SERIES BOOKS~
LEOPARD'S BLOOD
Christine Feehan. Berkeley / Jove, October 24, 2017. 384 Pages. ISBN: 978-0399583971.

CLICK HERE for more about this book
LEOPARD'S FURY
Christine Feehan. Jove Books, November 8, 2016, 384 pages. ISBN: 978-0515156225.

CLICK HERE for more about this book
WILD CAT
Christine Feehan. Berkeley / Jove, November 24, 2015. 432 Pages. ISBN: 978-0515156096.

CLICK HERE for more about this book
CAT'S LAIR
Christine Feehan. Jove Books, May 5, 2015, 448 pages. ISBN: 978-0515155563.

CLICK HERE for more about this book
LEOPARD'S PREY
Christine Feehan. Berkeley / Jove, May 28, 2013. 400 Pages. ISBN: 978-0515151558.

CLICK HERE for more about this book
SAVAGE NATURE
Christine Feehan. Jove Books, April 26, 2011, 400 pages. ISBN: 0515149330.

CLICK HERE for more about this book
WILD FIRE
Christine Feehan. Berkeley / Jove, April 27, 2010. 496 Pages. ISBN: 0515147907.

CLICK HERE for more about this book
BURNING WILD
Christine Feehan. Jove Books, April 28, 2009, 480 pages. ISBN: 0515146234.

Publishers Weekly Bestseller List
New York Times Bestseller List
USA Today Bestseller List
B&N Bestseller List
Borders Bestseller List
Walmart Bestseller List
Washington Post Bestseller List
ABA IndieBound Mass Market Bestseller List

CLICK HERE for more about this book
FEVER
Christine Feehan. Berkeley Trade, January 2006. 416 Pages. ISBN: 042520751X.

Special RE-ISSUE of:
The Awakening
(from Fantasy anthology)
and Wild Rain

CLICK HERE for more about this book
WILD RAIN
Christine Feehan. Jove Books, February 2004, 368 pages. ISBN: 0-515-13682-4.

Publishers Weekly Bestseller List
New York Times Bestseller List
USA Today Bestseller List
Waldenbooks Bestseller List
B. Dalton Bestseller List
Borders Bestseller List
B&N Bestseller List
B&N Online Bestseller List
Amazon Bestseller List
Sirenbooks Bestseller List

CLICK HERE for more about this book
FANTASY (anthology)
Christine Feehan, Sabrina Jefferies, Emma Holly, Elda Minger. Jove Books, March 2002.

USA Today Bestseller List
Waldenbooks Bestseller List
Barnes and Noble Bestseller List
Amazon Bestseller List
Sirenbooks Bestseller List
Dalton Bestseller List
Walmart Bestseller List

CLICK HERE for more about this book