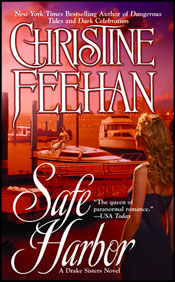 New York Times bestselling author "Christine Feehan has brought paranormal romance to a new high."* Now she soars as she introduces Hannah, one of the extraordinary Drake sisters—all gifted, enigmatic, and seductively enchanted…
One of seven daughters in a line of extraordinary women, Hannah Drake has been the elusive object of affection for Jonas Harrington for as long as the young man can remember. If only the stunning super-model was driven by a passion other than her career. But Jonas isn't the only one with desires for Hannah.
From the shadows has emerged a vengeful figure who stalks the beauty with one terrifying purpose: to strip her of all she is and destroy her. Only one man was destined as her protection. Now, out of a storm of danger, Jonas must guide the woman he loves from a sinister darkness that threatens not only Hannah, but the entire Drake family.
Click Here to Read Chapter 1
Release Date: June 26, 2007
Number of Pages: 384 pages
Publisher: Jove
Language: English
ISBN: 0515143189
---
~ORDER SAFE HARBOR~
---

~AUTHORS NOTES ~


Jonas has loved Hannah Drake for as long as he could remember. He isn't aware of when it started, and his feelings appear to grow with each passing year. As hard as he tries to reach out to her, to understand what goes on beneath her extraordinarily beautiful face, she eludes him. And then the unthinkable happens and Hannah is stripped of everything she is, leaving her in a storm of danger. It is Jonas who must shelter and protect her—and guide her back from darkness threatening to destroy, not only Hannah, but the entire Drake family.
---
~HANNAH DRAKE'S JOURNAL~
---
~FOG: WHICH DRAKE SISTER ARE YOU?~
Take our new FOG online quiz Which Drake Sister Are You? to find out which Drake Sister you are the most like and to get the new Turbulent Sea Screensaver! You can post your results on myspace, facebook, or your favorite blog.
---
~SAFE HARBOR FAQ'S~
FAQ: Who is the cover model on the insert of Safe Harbor?
The cover model on the insert of Safe Harbor is Stefan Schwarze. You can write to him through Dorchester:
Att: Stefan c/o Art Department
Dorchester Publishing
275 Fifth Avenue NYC 10001

Stefan was also the lead actor in the Safe Harbor book trailer. To view the trailer visit Christine's member's only section.

---
~SAFE HARBOR BESTSELLER LISTS~
#1 New York Times
#1 Barnes and Nobles mass market
#1 Borders mass market
#1 Publisher's Weekly
#3 USA Today
Walmart
Booksense
Bookscan
Target
Amazon
Washington Post
---
~SAFE HARBOR REVIEWS~
Publishers Weekly
Feehan kicks off episode five of her popular Drake Sisters series-concerning a septet of paranormally gifted sibs-with everything her fans have come to expect: action, gunplay, danger, bad guys, good guys, gorgeous women and magic. All that's missing are her spicy love scenes; those come later, and their promise is enough to keep pages turning. On top of that promise, however, is the intriguing mystery of the supermodel slasher, who attacks shy-but-smoldering Hannah, one of the sisters, at New York's annual Fashion Week. Hunky Sheriff Jonas Harrington, a longtime family friend, is fresh from a life-threatening encounter with the Russian mob when he witnesses, on live TV, Hannah getting cut down by a madman with a knife. After the sisters rush to her side, saving her with their combined powers, Jonas vows to hunt down the assailant-but his unrequited love for Hannah complicates matters. This winning series entry is sure to please devotees and shouldn't provide much difficulty for curious newbies. (July)
Copyright 2007 Reed Business Information
Brenda Edde
SAFE HARBOR, the 5th book in Ms. Feehan's widely acclaimed Drake Sisters series is packed with action, danger and heart-rending emotion. The long awaited story of Hannah and Jonas is all that Ms. Feehan's fans could have asked for. Just as Hannah and Jonas seem to find their way to each other's heart they are plunged into danger, leaving the readers gasping for breath and praying along with the Drake sisters that they will find and destroy those responsible for the danger that is stalking them. Ms. Feehan has a unique talent to blend action, emotion and humor in such a way that has you turning page after page, reading and rereading her books to catch every last drop.
Another 5 star story that I suggest the readers to start early in the day as with all the action you will not want to put it down until you are done
Carol Carter, Reviewer
www.romrevtoday.com
It's here! The story you've been waiting for, Hanna and Jonas. And all I can say is WOW! What a story! More than you ever expected for the Drake series.

SAFE HARBOR is a highly emotional love story, but also one packed with more action and suspense than any previous Drake series tale. This is Jonas and Hannah's story, but all of the sisters play a large part, sharing their love for each other and Jonas. Jackson and Ilya Prakenskii have larger parts than in previous stories, and they make it known which sister they lay claim to. The sisters' humor comes out as they have a little fun with them. I can't wait to see these strong, domineering men meet their matches in Jolie and Elle. I know followers of the Drake series have been waiting for SAFE HARBOR. It's difficult not to give spoilers because there is so much to tell. But I can promise you will be thrilled by the time you reach the end. By then you'll know Hannah and Jonas inside and out and if you didn't love them before, you will now. Don't even think of missing this one. It's absolutely terrific and quite deserving of a Perfect 10!