~PREDATORY GAME~
Last Updated: January 30, 2013 14:58:13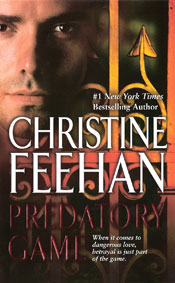 Saber Wynter is running from her past when she meets Jess Calhoun, an ex-Navy SEAL who is physically and emotionally compromised by his own mysterious and violent history as a GhostWalker. What Jess senses in Saber is a kindred spirit, a lost soul desperate for sanctuary. He offers her a home, job, and a haven where she can safely reveal the secrets that shadow her. But danger follows her, too. Now, the riddles of both their pasts are about to collide, shattering the promise of their future with the ultimate betrayal.
Click Here to Read Chapter 1
Release Date: February 26, 2008
Number of Pages: 352 pages
Publisher: Jove
Language: English
ISBN: 0515144282
---
~ORDER PREDATORY GAME~
Mass Market Paperback

Order from Amazon.com
Order from BarnesAndNoble.com
Order from BooksAMillion

printable order form for bookstore

E-Book

Amazon.com (Kindle)
BarnesAndNoble.com (Nook)
ItunesApple.com (Ipad)
Ebookstore.Sony.com (Sony Reader)
Diesel-ebooks.com (ePub, Palm, Adobe, M-Soft)
Ebooks.com (ePub, PDF, Mobi, MS Reader)
BooksOnBoard.com (Adobe, ePub, MS Reader, Mobi, eReader)

Audiobooks
Narrated by Tom Stechschulte

Order from Audible.com
Order from ITunes.com
Order from BooksOnBoard.com
Order from EMusic.com
Order from RecordedBooks.com

Largeprint Hardcover

Order from Amazon.com

German Format:
Fesseln der Nacht


Order from Amazon.de

UK Paperback Format

Order from Amazon.co.uk
Order from LittleBrown.co.uk
After being tortured, his legs smashed beyond repair, former Navy SEAL and GhostWalker, Jess Calhoun, retreats to his home town of Sheridan, Wyoming where he owns the local radio station. He appears to be making a new life for himself, writing songs and living quietly. He does his physical therapy and looks innocent and gentle in his wheel chair.
Saber Winter answers an ad for the radio station, the perfect night job for someone on the run. She gets a lucky break renting the upstairs of radio station owner Jess Calhoun's, home where she can work also as a part time housekeeper. He spends most of his time locked in his private, off-limits office or doing physical therapy. She's small and fragile looking, almost child-like and appears in need of protection.
Who would ever suspect that two deadly predators live side by side in the same house?
---
~PREDATORY GAME TEASER~
Quicktime

-- You may need to turn the volume up on the Quicktime Player.
Login to the members only section to read the Making Of Predatory Game Article by Sheila Clover from COS and to view the Predatory Game Full Length Booktrailer and over 400 pictures from the shoot in the Predatory Game Photo Gallery. Also, for a limited time, you can share the Making of Article in PDF format with your friends.
---
~PREDATORY GAME PUZZLE~


For more puzzles, login the members section.
---
~PREDATORY GAME SLIDE SHOW~
---
~GHOSTWALKER T-SHIRTS
BY CAROL CARTER~
| | |
| --- | --- |
| | |
Click here to learn how to order.
Click here to learn about the GhostWalker Symbol.
Who did the cover art for Predatory Game?
The cover design was done by Marc Cohen and the photo of the model was taken by photographer Pierre Arsenault. We are still trying to find out who the model is.
---
~PREDATORY GAME BESTSELLER LISTS~
New York Times Bestseller List
Publishers Weekly Bestseller List
USA Today Bestseller List
Barnes & Noble Bestseller List
Borders Group Bestseller List
Bookscan Bestseller List
#1 Top Book at Rhapsody Bestseller List
---
~PREDATORY GAME REVIEWS~
From Romantic Times
Reviewed by Jill M. Smith
4 1/2 Stars HOT
Top Pick!
In her latest Ghostwalker novel, Feehan explores what happens when a friendship is put to the test. The character development is poignant and top notch, which makes the stakes for survival all the higher. Feehan's at the top of her game with this explosive, scintillating novel
From Fresh fiction
Reviewed by Lory Martin
Posted February 13, 2008
"The fascinating GhostWalkers return in another highly intense and sensuous story."

As always with Ms. Feehan's books, PREDATORY GAME was eagerly anticipated. And boy did it deliver! Chockfull of action, both shoot-'em-up and of the sensual variety, this book keeps you rockin' from the get-go. All the couples involved in the GhostWalker stories have been both tough and heart-wrenchingly perfect for one another, and Saber and Jesse rank right up there with the best of them. Tough as nails, but with a yearning heart-of-gold describes Saber, and Jesse can be described with one word: Alpha. Together they're a psi work of art and an unbeatable team. Come along for an intense, sensuous ride with the GhostWalkers, and hold on -- it's gonna be a bumpy one.