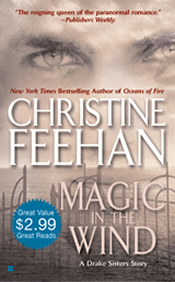 Praised for her blend of "action, suspense, and...erotically charged romance" (Booklist), New York Times bestselling author Christine Feehan presents the story of Sarah, the eldest of the extraordianary- and magical- Drake sisters, now rewritten and expanded, in this very special collector's edition...
"Sarah's coming home." Ever since Damon Wilder sought refuge in Sea Haven, he's heard the same breathless rumor pass the lips of nearly every local in the sleepy coastal town. Even the wind seems to whisper her name - a reverie so powerfully suggestive that it carries the curious Damon to Sarah's clifftop home, and seeks to shelter him there.
But Damon has not arrived alone. Two men have tracked him to Sea Haven, and into the shadows of Drake House, where Sarah hides her own secrets. And danger- as well as a desire more urgent than either has ever known- is just a whisper away...
Click Here to Read Chapter 1
Release Date: October 2005
Number of Pages: 103 pages
Publisher: Jove
Language: English
ISBN: 042520863X
---
~ORDER MAGIC IN THE WIND~
---

~AUTHORS NOTES ~
I have to admit this was a book of the heart. Seven sisters interacting, all magical and capable of extraordinary things. A town filled with wonderful people seen, first through the eyes of a stranger who can't accept them, and then seen through the eyes of one who loves them for all their differences. This is book of magic, of love and tolerance….well, with a bit of suspense and action thrown because that's the way my mind works!!!!
PLEASE NOTE: This is a re-issue short story. It was originally released in an anthology called Lover Beware. The new version of Magic in the Wind includes a new bonus chapter that was never before released!
---
~SARAH DRAKE'S JOURNAL~
---
~FOG: WHICH DRAKE SISTER ARE YOU?~
Take our new FOG online quiz Which Drake Sister Are You? to find out which Drake Sister you are the most like and to get the new Turbulent Sea Screensaver! You can post your results on myspace, facebook, or your favorite blog.
---
~MAGIC IN THE WIND REVIEWS~
Reviewed by Carol Carter
Romance Reviews Today
A departure from Christine Feehan's 'dark side', this short story isn't about vampires and doesn't have a gothic flavor. It introduces some of the seven sisters with special magical talents. They are a delight, and like sisters all over the world, they love to tease and are extremely protective of those they love. Ms. Feehan's words portray this love in a thread throughout her novella. Her tale holds humor, adventure, suspense, and sensual romance. I only wish this had been a full novel….. Yes, there is not only MAGIC IN THE WIND, there is magic in Christine Feehan's pen.
Reviewed by Janice Bennett
http://www.thebestreviews.com
Magic in the Wind is provided by popular best selling author Christine Feehan, and was a delightfully fresh and entertaining read. When Sarah and Damon meet, magic seems to happen, and he finds himself drawn to her. But then danger from his past comes calling... I happily anticipate more stories from this talented author featuring Sarah's other magical sisters . The sense of family and caring was beautiful, the magic was wonderful, and I want more!
Reviewed by Harriet Klausner
http://www.thebestreviews.com
Posted June 23, 2003
"Military defense systems expert Damon hides from the threats to his life. In his new town, he hears strange whispers about his neighbor Sarah, her "sisters" and their otherworldly powers. Damon and Sarah instantly fall in love with one another. When his adversaries find him, Damon and Sarah try to keep each other safe. This strong story needs novels starring Sarah's siblings.
Reviewed by Nichole Keeton
Old Book Barn Gazette
Posted June 20, 2003
MAGIC IN THE WIND by Christine Feehan is the story of Damon Wilder, injured, burnt-out and retired scientist who once worked for the defense department, and Sarah Drake, eldest of seven Drake daughters and local legend. Sarah returns to her hometown on the wings of the rumors of her coming. Trouble follows her, but it's not her trouble. She's been retained to protect Damon from the people who previously injured him, to try to halt the shadow of death that rides him. However, once she meets him, it becomes obvious that while she may be his defender, he is her fate. I thoroughly enjoyed this story and really hope that it's the beginning of another series by this excellent (and, thankfully, prolific) author. The secondary characters, especially Sarah's sisters, are just as fascinating as the main characters