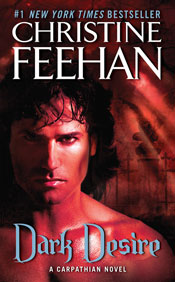 The stranger silently summoned her across the continents, across the seas. He whispered of eternal torment, of endless hunger . . . of dark, dangerous desires. And somehow American surgeon Shea O'Halloran could feel his anguish, sense his haunting aloneness, and she ached to heal him, to heal herself.

Drawn to the far Carpathian mountains, Shea found a ravaged, raging man, a being like no other. And her soul trembled. For in his burning eyes, his icy heart, she recognized the beloved stranger who'd already become part of her. The imperious Carpathian male had compelled Shea to his side. But was she to be his healer. . . or his prey? His victim . . . or his mate? Was he luring her into madness . . . or would his dark desire make her whole?
Click Here to Read Chapter 1
Re-issue Release Date: July 31, 2012
Number of Pages: 400 pages
Publisher: Avon Books
Language: English
ISBN: 978-0062019431

Original Release Date: January 2006
Number of Pages: 369 pages
Publisher: Leisure Books
Language: English
ISBN: 0843956534
This book was probably the most difficult of all the books to write because I had to strike such a balance with the hero, a very tormented individual, powerful and nearly mad. I felt the heroine was extremely courageous under very difficult circumstances. Dark Desire takes place in the Carpathian Mountains and some of the same characters appear again. Usually I start a book and instantly the story line flows to me, but I wasn't satisfied with the beginning of the book for a long, long time. In fact, I worked on the beginning chapter longer than the entire rest of the book! In the end I was very satisfied and can't wait for you to read it and love the characters as much as I do.
---
~DARK DESIRE FAQ's~
FAQ: Who is the male cover model on the original cover of Dark Desire?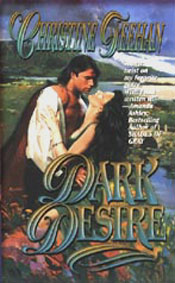 The male cover model on original cover of Dark Desire is Dominic Spinale. We would like to give credit to the female cover model as well, but still do not know her name. If you can help by providing this information please email: christine@christinefeehan.com.
---
~DARK DESIRE AWARDS & HONORS~
Finalist for 1999 All About Romance Award
for Most Tortured Hero

Nominee for 1999 All About Romance Award
for Best Other Paranormal Romance

3rd Place for 2000 Romance Books & Readers
for Fantasy

Recommended by Barnes & Noble
---
~DARK DESIRE BESTSELLER LISTS~
Amazon Bestseller List
Siren Books Bestseller List
Walmart Bestseller List
---
~DARK DESIRE REVIEWS~
Romantic Times

DARK DESIRE is the terrific second installment in promising author Christine Feehan's intriguing and complex Carpathian/vampire series.
Editor's Desk of Dorchester Publishing
Christine Feehan's premier novel, DARK PRINCE (August 1999), flew off the bookstore shelves, set the Internet abuzz, and -- judging from the fan mail -- clearly started a deep throb in the hearts of readers hungry for a taste of the dark, sometimes dangerous side of passion. And Ms. Feehan is pleased to oblige that appetite with DARK DESIRE coming from Love Spell this December. Even more powerful than her first book, DARK DESIRE probes deeper into the haunting world of deceptively seductive vampires, dangerous but delicious Carpathian males, and the innocent women they hunt to bring light to their darkness. Like Anne Rice, Christine Feehan creates her own exotic and erotic world exploring emotional issues crucial to us all-our often wounded spirits, our sometimes broken hearts, our search for our true soul mate . . . and the incredible healing power of love.

Watch for future titles in Christine Feehan's Dark saga. Each book will stand alone-but together they weave an intense and intriguing tapestry of darkness and desire.
Under the Covers
Reviewed by Janice Bennett
A very well written entertaining story that I highly recommend
New Age Bookshelf
Reviewed by Karen King

The story is riveting from the first page and impossible to put down