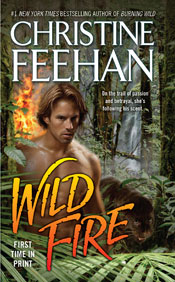 The heat of passion--and danger--rises like jungle fire in the all-new novel of the leopard people by #1 New York Times bestselling author Christine Feehan…
Called on a dangerous assignment, leopard shifter Conner Vega returns to the Panama rainforest of his homeland, looking every bit the civilized male. But as a member of the most lethal of the shifter tribes, he doesn't have a civilized bone in his body. He carries the scent of a wild animal in its prime, he bears the soul-crushing sins of past kills--and he's branded by the scars of shame inflicted by the woman he betrayed.
Isabeau Chandler's a Borneo shifter who's never forgiven Conner--or forgotten him. The mating urge is still with her, and when she crosses Connor's path, passions run like wild fire. But as Connor's mission draws Isabeau closer, another betrayal lies waiting in the shadows--and it's the most perilous and intimate one of all.
Release Date: April 27, 2010
Number of Pages: 496 pages
Publisher: Jove
Language: English
ISBN: 0515147907
---
~ORDER WILD FIRE~
---
The Wild Fire Trailer was made by COS Productions. The full length trailer is 59 seconds long. It is available for viewing in the following video formats:
---
~WILD FIRE PUZZLE ~
---
~WILD FIRE FAQ'S ~
FAQ) Who is the cover model for Wild Fire?
The cover model for the Wild Rain cover and insert is Robert Nuzzie. Visit his website at: http://www.robertjohnnuzzie.com/.
---
~WILD FIRE REVIEWS~
RT Book Review
Reviewed by Jill M. Smith
Rating:
Hatred and love walk a fine line in Feehan's newest Leopard people tale. As in all Feehan novels, there is plenty of high-stakes action and gut-wrenching emotion to keep the pace brisk and the enjoyment factor high!
Coffee Time Romance & More
Reviewed by Maura
Rating: 4 Cups
This is an exciting, suspense-filled tale with two strong and passionate main characters. Isabeau is strong and innocent but never weak, and Connor is flawed but determined to make up for his past mistakes. Imelda Cortez makes an incredibly evil villain, but she is not the only one in the story. One villain will come as a complete surprise. The author has given the reader an incredible plot that will have you engrossed from the very first page. The action scenes are spine tingling and the love scenes are some of the most passionate this author has ever written. This is one story not to be missed.
Romance Reviews Today
Reviewed by Kathy Samuels

The Amazon - Present Day

There is nothing like coming home. For Connor Vega, stepping foot on his birth soil brings memories and a need to get wild, literally. A leopard shifter, Connor has been called home because of a threat to his people. He never expected to run into the woman he loved and betrayed.

Isabeau Chandler never forgot the man who took her innocence in more ways than one. Though she still blames him for her father's death, Isabeau also knows Connor is the only man who will be able to get close enough to the deadly drug dealer trying to create new routes through the jungle. But she didn't expect the chemistry that still burns between them, nor her inability to stay away from him.

It's not long before the jungle heats up with both passion and gunfire. Isabeau, Connor, and his team are in dangerous territory, made more so by the mating urge slowly taking over Isabeau as she learns of her shifting heritage. Will they be able to stop the drug dealer before evidence of shifter existence is revealed? What about the rogue shifter who believes Isabeau is his mate? Will it come down to a death match between him and Connor?

The intricacies of the storyline, matched with Isabeau and Connor's personal drama and the heat of the Amazon, come to life in Christine Feehan's WILD FIRE. Though the book is a bit darker than the author's previous offerings, it still offers a richness of imagery and emotion that captures the reader's attention. Isabeau and Connor are well matched. She is a woman who has come into her own after a betrayal that cut deep. She is willing to stand up to and for Connor and the love that they share. Connor knows he has done things in his past that he regrets. The opportunity for a second chance is not one he will pass up, and he will stop at nothing to protect what is his. Several of Connor's colleagues return to the stage from previous books in the series including Ethan and Rio, though they act mainly as background while Connor and Isabeau are the centerpiece of the tale.

Another gripping tale that will leave readers begging for more as they breathlessly watch how far and wide this WILD FIRE will burn.