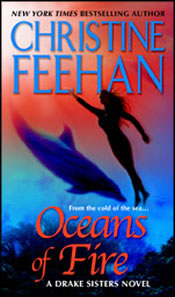 Seven sisters…
and a legacy of magical secrets.
Called "the reigning queen of paranormal romance" by Publishers Weekly, New York Times bestselling author Christine Feehan offers an imaginative blend of sensual romance, fast-paced adventure and the paranormal that has thrilled countless readers. Now, she tells the story of Abigail Drake, of the magical Drake sisters — seven elementally gifted sisters, and their prophecy of love…
As the third daughter in a magical bloodline, Abigail Drake was born with a mystical affinity for water, and possessed a particularly strong bond with dolphins. She spent her entire life studying them, learning from them, and swimming among them in the waters off her hometown of Sea Haven … Until the day Abby witnessed a cold-blooded murder on shore, and found herself fleeing for her life — right into the arms of Aleksandr Volstov. He's an Interpol agent on the trail of stolen Russian antiquities, a relentless man who gets what he goes after — and the man who broke Abby's heart. But he isn't going to let the only woman he ever loved be placed in harm's way — or slip away from his embrace…
Click Here to Read Chapter 1
Release Date: May 31, 2005
Number of Pages: 384 pages
Publisher: Jove
Language: English
ISBN: 051513953X
---
~ORDER OCEANS OF FIRE~
---

~AUTHORS NOTES ~


I loved writing this book. Aunt Carol was a wonderful character and I was able to put in two of my very favorite activities. I love scrap booking and my best friend is a Creative Memories consultant. She's helped me so much over the years with my photographs and more importantly, provided fun and endless memories with my sons, daughters and sisters. The Red Hat Society is the just plain fun. It promotes sisterhood (which too me is all important) and advances the idea that we are allowed to have fun. Incorporating both invaluable societies into my book has brought such a wonderful dimension to my characters,the family and sisterhood of the Drakes.
---
~ABIGAIL DRAKE'S JOURNAL~
---
~FOG: WHICH DRAKE SISTER ARE YOU?~
Take our new FOG online quiz Which Drake Sister Are You? to find out which Drake Sister you are the most like and to get the new Turbulent Sea Screensaver! You can post your results on myspace, facebook, or your favorite blog.
---
~OCEANS OF FIRE FAQ's~
FAQ: Who is on the cover and insert of Oceans of Fire?
The female model is Cara Auletto, and Jack Harnett is the male model.
FAQ: Who did the cover art for Oceans of Fire?
Danny O'Leary did the cover art for Oceans of Fire.
---
~OCEANS OF FIRE BESTSELLER LISTS~
NY Times Bestseller List
USA Today Bestseller List
Publisher's Weekly Bestseller List
Booksense Bestseller List
Waldenbooks Bestseller List
Borders Bestseller List
Barnes and Nobles Bestseller List
Books a Million Bestseller List
Amazon Bestseller List
---
~OCEANS OF FIRE REVIEWS~
Reviewed by Brenda Edde
Romance Junkies
Swimming with the dolphins is more than a job to Abigail Drake; they have been her salvation in the last few years. When Abby witnesses a Russian Mafia execution on the docks of Sea Haven, the dolphins protect her and keep her alive as she swims to safety. Aleksandr Volstov catches Abby hovering over the body of his dead partner on the dock and has a gun pointed to her forehead ready to pull the trigger before he recognizes her. Neither Aleksandr nor Abby are sure who is more surprised to find each other here, however, Aleksandr is determined to keep her in his sights and Abby is equally determined to stay away rom the sexy Interpol agent who broke her heart.

OCEANS OF FIRE is the third book in the Drake Sisters eries and is thankfully, a full length book. For Abby and Aleksandr's story, Ms. Feehan has the space to delve into an in-depth story line on their relationship and expand the history of the Drake family with the advent of the hysterically funny Aunt Carol and her memories of Sea Haven. It is never easy to be a part of such a large family, especially one so unique as these ladies, the dynamics of the different magical gifts and the ways the girls learned to handle them growing up are brought out in more detail with hysterically funny stories coming to the forefront. As Abby's sisters give her the support she wouldn't seek out but desperately needed, you get to look into the relationships between the seven sisters and begin to have a deeper insight of what growing up in such a large family is really like. The absolute best part of the Drake series is the laughter!! The teasing between the sisters, the teasing of poor Jonas, who is only trying to keep them safe, is so much fun to read. You will find yourself chuckling through out the book and in a full blown belly laugh when a certain ceremony is performed much to Abby's dismay or is it anticipation? I can only hope that the remaining four sister's stories will be full length novels, giving us the full effect of Ms. Feehan's entertaining style of writing.
Romantic Times Bookclub
Jill Smith reviewer

top pick
This magical series about the sisters with something extra explores the powers and familial relationships of seven sisters and the men destined to love them. Oceans of Fire is a rousing romantic thriller and a true classic!
Romance Reviews Today
http://www.romrevtoday.com
Patricia Green
OCEANS OF FIRE - Christine Feehan A Drake Sisters Novel, Book 3 Ms. Feehan consistently delivers multi-faceted characters, intriguing plots, and sensuous romances. Her latest offering, OCEANS OF FIRE, does not disappoint. The small town of Sea Haven as the center of international intrigue works well as the impetus for Abigail and Aleksandr to reunite. The plot has plenty of tense moments while the protagonists work together to solve a murder. Abigail is not about to let Aleksandr back into her life easily or stand idly by while he puts himself in danger to protect her, which is a perfect foil for his Alpha tendencies.

I admire Ms. Feehan's ability to make infuriatingly arrogant Aleksandr someone you find yourself pulling for, a tricky task since he expects so much from Abigail in spite of the past mistakes he refuses to admit to. The chemistry between the two, despite all of the problems they encounter, leads to some explosive confrontations and steamy love scenes. Supporting characters are well developed and the introduction of the fascinating and mysterious Ilya Prakenskii will leave the reader primed for the next novel in the series.

This is the third book in the Drake Sister Series. However, reading the previous tales (LOVER BEWARE: MAGIC IN THE WIND & THE TWILIGHT BEFORE CHRISTMAS) are not a prerequisite. So enjoy a little bit of magic, a dash of intrigue, and all the romance to be found in OCEANS OF FIRE.
Tangela Williams, reviewer
Romance Readers Connection
Ms. Feehan has once again brought us back to the magical world of the seven Drake sisters with Abigail's story OCEANS OF FIRE. Each character in this captivating story will just jump off the pages telling their own stories. You will again become acquainted with all the Drake sisters and the police chief Jonas as they all work together. This fast-paced story is another jewel to Ms. Feehans writing abilities that I would highly recommend to anyone. However to get the full story I recommend that you read Kate's story in THE TWILIGHT BEFORE CHRISTMAS and Sarah's story in the Anthology LOVER BEWARE. I must say though that I will be looking forward to the release of MAGIC IN THE WIND in October 2005, which will be more of Sarah's story from the short story in LOVER BEWARE.
Paula Klug, reviewer
http://www.aromancereview.com
Ms. Feehan has brought paranormal romance to a new high with Oceans of Fire. She has not only continued to define and enhance the Drake family, but she has introduced some characters that are sure to return in the coming four stories. There is plenty of spine-tingling action to keep readers on the edge of the couch, and simmering passion for more than a few heartfelt sighs. This book is headed straight for my keeper shelf.