~NIGHT GAME~
Last Updated: March 06, 2015 11:14:48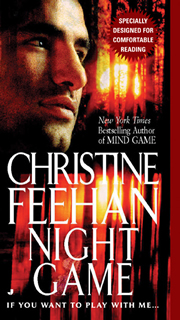 Praised for her "swift-moving and sexually-charged" plots and "fabulous paranormal twists" (Midwest Book Review), New York Times bestselling author Christine Feehan now tracks the desperate steps of a wanted woman-betrayed, avenging, and dangerously irresistible.
Gator Fontenot of the Special Forces paranormal squad can't refuse an urgent request to save the elusive Iris Johnson, a victim of the same horrific experiments that warped Gator. Now unleashed, she's a flame-haired weapon of unimaginable destructive powers, a walking time bomb bent on revenge in the sultry bayous of New Orleans, and hunted by a shadowy assassin. It's Gator's job to reel Iris in. But can two people haunted by violent betrayals trust the passion that soon ignites between them? Or is one of them just playing another seductive and deadly night game?
Click Here to Read Chapter 1
Release Date: November 1, 2005
Number of Pages: 496 pages
Publisher: Jove
Language: English
ISBN: 0515139769
---
~ORDER NIGHT GAME~
---
~AUTHORS NOTES~
Gator has gone back to his home in the Louisiana bayou in the hopes of finding the elusive "Flame" Iris "Flame" is a traveler, a ghost always on the move, impossible to pin down. He's heard she might be in the area after reading about a hidden sanitarium that burned to the ground and the only occupant's escape. Unfortunately Flame has a few bad habits and one of them is seeking justice for those she believes deserve it and are operating outside the law. The smooth talking lady's man with his Cajun drawl and easy going manner finds himself in hot water and more steam than a man should have to handle in this thriller.

---
~GHOSTWALKER T-SHIRTS
BY CAROL CARTER~
---
~NIGHT GAME BESTSELLER LISTS~
New York Times Bestseller List
Publisher's Weekly Bestseller List
USA Today Bestseller List
Barnes and Noble Mass Market Bestseller List
Borders Mass Market Bestseller List
Waldens Mass Market Bestseller List
Amazon Bestseller List
Walmart Bestseller List
Bookscan Bestseller List
---
~NIGHT GAME REVIEWS~
Publishers Weekly
At the start of bestseller Feehan's suspenseful third GhostWalker novel (after Mind Game), Raoul "Gator" Fontenot, a member ofthe Special Forces paranormal squad known as the GhostWalkers, is looking for Iris "Flame" Johnson, who, like Gator, was a subject of genetic engineering by the late Dr. Peter Whitney. Though Whitney's treatment left Flame with superior physical strength and hearing, he also used her as a guinea pig, deliberately giving her cancer in order to further his research for a cure. After Gator finds Flame in the steamy bayou country outside New Orleans, the pair team up to search for another young woman who has mysteriously disappeared, as clever assailants dog their every step. Though Flame and Gator are endowed with superhuman skills, this captivating story's paranormal aspects never overshadow the sexual tension between them.
Carol Carter, Senior Reviewer
Romance Reviews Today
NIGHT GAME moves through the swamps of the Bayou in Louisiana, and is packed with adventure, including angry, hungry alligators, familiar Ghostwalkers, and enemies with enhanced powers. Flame has the same enhancements as Gator and they keep things rocking as they fight for their very lives.

I've enjoyed all of Christine Feehan's series; the Ghostwalkers being my favorite, but I gotta tell you -- NIGHT GAME tops them all! Not only is this a thriller, the sensual scenes rival the steaming Bayou. Fans will also find a very strong thread of family; something that Flame dreams of, yet pushes away with her every instinct. Gator surely has his work cut out for him trying to change her mind, and his grandmere will do everything she can to help him, a fact that will bring some smiles to readers.

This reviewer considers NIGHT GAME to be A PERFECT TEN, and suggests Feehan fans pre-order this one. When word gets out it will fly off the shelves. It is sure to hit the Best Seller Lists and end up on your keeper shelves.
Harriet Klausner
The Best Reviews
The latest Ghostwalker Game thriller is a terrific paranormal entry because of the personalities of two loners, both ready to explode (especially the heroine) and neither easily trusting others particularly those who Whitney experimented on. The story line is action-packed never slowing down, but also has the haunting of Katrina as pre-hurricane New Orleans serves as the backdrop. Christine Feehan is on her A-game with her latest paranormal thriller.
Brenda Edde
Romance Junkies
Ms. Feehan's GhostWalker series blends the frightening possibilities of a marriage between our government and doctors engaged in genetic enhancement with the love stories that she is so adept at. The action is non-stop in NIGHT GAMES and is as fast paced as the dialogue. She has thrown a twist in the plot of the series for her faithful followers who thought they knew what direction she was going with this series. She also weaves in a heartbreaking thread of what those who deal with cancer must go through rounding out this book on many different emotional levels. You will cheer on Flame's independent streak; suffer with Gator as he makes difficult decisions to save lives and grin ear to ear as Ms. Feehan's sense of humor shines through Gator's

Grand-mere's attitude and antics. NIGHT GAMES is one of Ms. Feehan's best works, which is saying a lot from this New York Best-selling author. So make room on your Feehan keeper shelf for NIGHT GAMES and mayhap think of a second copy as you will be re-reading this one more than once.



---

---

~MEMBER LOGIN~
Login to view Christine's latest book trailers, play games, socialize with other members, and more!

Forgot your password? Click here.
Not a member? Join today!


---

~INSTAGRAM~
Official CF Instagram @AuthorCFeehan

---

~COMING SOON~
Coming soon is Power Game. Look for it in stores January 24 or pre-order it today.

Pre-Order Power Game:
Amazon.com
BarnesAndNoble.com


---

~JUST RELEASED~
My latest release is a paperback reissue of The Twilight Before Christmas. Look for it in stores now or order it online. To read the first chapter click here.

Order The Twilight Before Christmas:
Amazon.com
BarnesAndNoble.com


---

~RECENT RELEASE~
Another recent release is titled Leopards Fury. Look for it in stores or order it online.

Leopards Fury:
Amazon.com
Barnes & Noble


---

~2016 RELEASES ~
NEW BOOKS: Spider Game, Dark Promises, Fire Bound, Shadow Rider, Leopard's Fury, Dark Carousel
RE-ISSUES: Dark Ghost, Dark Crime (ebook), The Twilight Before Christmas

~2017 RELEASES ~
NEW BOOKS: Power Game, Bound Together
RE-ISSUES: Dark Promises

---