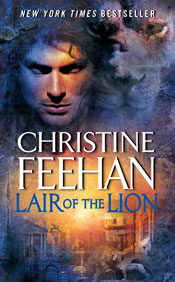 THE BEAUTY
Rumor said the powerful Nicolai DeMarco could command the heavens, that the beasts below did his bidding . . . and that he was doomed to destroy the woman he took as wife. It was whispered he was not wholly human—as untamed as his tawny mane and slashing amber eyes.
THE BEAUTY
Impoverished aristocrat Isabella Vernaducci would defy death itself to rescue her imprisoned brother. She'd even brave the haunted, accursed lair of the lion—the menacing palace of legendary, lethal Don Nicolai DeMarco.
THE BARGAIN
Then Isabella met a man whose growl was velvet, purring heat, whose eyes held dark, all-consuming desire. And when the don commanded her to become his bride, she went willingly into his muscled arms, praying she'd save his tortured soul . . . not sacrifice her life.
Click Here to Read Chapter 1
Click Here to Read Excerpt
Re-Issue Release Date: January 31, 2012
Number of Pages: 432 pages
Publisher: Avon
Language: English
ISBN: 978-0062021359
Original Release Date: September 2002
Number of Pages: 366 pages
Publisher: Leisure, Avon
Language: English
ISBN: 084395048X
---
~ORDER LAIR OF THE LION~
I love Beauty and Beast stories and all things magical. This is my tribute to that wonderful legend! I chose the Italian Alps and the fantasy valley to set my story because the Celtics inhabited the region and brought their beliefs with them. The area was rich in legends, magic and religions. I hope you truly enjoy this story!
---
~LAIR OF THE LION AWARDS~
Winner for the 2002 Golden Rose Award
Readers Choice Award from Love Romances
for Best Shapeshifter
Winner of 2002 Walden Books
Bestselling Paranormal
(tied with Dark Guardian)

Recommended by Barnes & Noble

---
~LAIR OF THE LION BESTSELLER LISTS~
USA Today Bestseller List
New York Times Bestseller List
Waldenbooks Bestseller List
Waldenbooks Best Romance Books of 2002
Walmart Bestseller List
Sirenbooks Bestseller List
Barnes and Nobles Bestseller List
Amazon Bestseller List
B. Dalton Bestseller List
Borders Bestseller List
Walmart Bestseller List
---
~LAIR OF THE LION REVIEWS~
Reviewed by Publishers Weekly
Best know for her vampire romances (Dark Guardian, etc.), Feehan adds a gothic twist to a classic fairy tale in this eerie and engrossing nineteenth century romance.

In the desperate attempt to save her brother, Lucca, from the evil clutches of the grasping lord who has imprisoned him, Isabella Vernaducci, a courageous but impoverished noblewoman ventures into the Alps to search for elusive and dangerous Don Nicolai DeMarco, believing him the only man powerful enough to save Lucca. To her surprise, Nicolai offers her a deal. He will aid her if she consents to be his bride. Isabella agrees before learning of the DeMarco curse- which condemns the DeMarco men to be seen as 'the beast' and prophesies that Nicolai will 'rip the heart' from the one he loves. Suspense shimmers in the DeMarco keep, where chilling cries are heard long into the night and Nicolai's pet lions roam. Though the relationship and Isabella is overwrought at times- he frequently tries to save her from himself by attempting to send her away- they're a perfectly matched pair in terms of temperament; and their steamy sex scenes heat up the pages.

With its guileless heroine, masterful hero, and mystical overtones, Feehan's inspired retelling is likely to garner her the attention she deserves.

Forecast:

Dorchester reports that all Feehan's current novels have gone back to press at least once. Expect the same for this title. Feehan's books frequently land on bestseller lists, and her vampire romances have garnered her a strong following.
Romantic Times
Reviewed by Jill Brager
GOLD Top pick

Phenomenal
Christine Feehan is a magnificent storyteller. Her spitfire heroine, tormented hero, their dark and highly sexually charged relationship are so enthralling that I almost missed my bus stop because I was so engrossed in the story. One word of warning: don't start late at night or you'll still be reading at dawn.
Reviewed by Gloria Kruenegel
Romance and Friends
IF you are a gothic fan, or a paranormal fan, or a romance lover....this book is perfect for you!

I do believe Ms. Feehan has outdone herself this time! I loved The Scarletti Curse, but while reading this book, I can see how much she's grown as an author in the gothic realm! I could feel the love, evil, sadness, the joy and laughter felt by the hero and heroine as well as the secondary characters. Ms. Feehan brought every emotion to life with the magical ability she has when she creates!

As a reader, this rates a great 5 roars and is one of the hottest and most sensuously sizzling reads of the year!!!

Reviewed by Melissa Bradley
In an incredibly gripping, fascinating tale, Ms. Feehan once again proves that she can write paranormal romance like no other. It was so wonderful to see the love grow between the emotionally wounded Nicolai, and the proud, determined Isabella. And even while you're reading, you wonder what she'll introduce into the pages next-for this is a complex story, full of intrigue, romance, paranormal elements, and tons of surprises. She weaves the elements seamlessly into the story, making us wait with baited breath to turn the next page, to get to the next chapter. This, my friends, is once again a not to be missed read penned by the wonderful Christine Feehan! Oh, and those paranormal elements? I'll just say there are several going on-although no Carpathians!-and that you'll just have to read the book for the secrets to be revealed! You'll not want to miss this one!
Timeless Tales Book Reviews
Reviewed by Amy L Turpin

This wonderfully magical world is filled with dark and forbidding places where love truly conquers all. Shape-shifting stories have always fascinated me. The challenge is making the unbelievable believable. The romance woven into this story is superbly done, and is intricately woven therein, making the tale incomplete without it. This is a very sound work and one I believe the reader will enjoy time and time again. Written in the same tone as her first gothic 'The Scarletti Curse', Ms Feehan creates yet another book dominated by seductive, tormented men and the women determined to save them.

Sime~Gen online site
Reviewed by Diane Mason

Christine Feehan has done it again! Lair of the Lion will take you on a rollercoaster ride of emotion as Nicolai and Isabella try to fight what fate has decreed and still have the faith that they can overcome it together. I can never finish a Christine Feehan book without screaming for more and Lair of the Lion is no exception. Current readers of Christine's books will really enjoy this one as she just seems to get better and better with each book. I highly recommend this book to anyone who likes strong, tortured heroes and equally strong heroines mixed with paranormal/gothic type circumstances. Be warned though, once you pick this book up you won't be able to put it down.

Romance Reviews Today
Reviewed by Catherine Loney
Vibrant characters, suspense filled plot, a creatively portrayed curse, and just the right touch of the supernatural make LAIR OF THE LION a fantastic story. Love scenes sizzle as Nicolai and Isabella explore their palpable attraction for each other. Secondary characters provide structure to the tale as Ms. Feehan ingeniously builds the reader's attention, causing pages to fly by as the words are greedily absorbed.

For those who love cursed heroes, wailing ghosts, family betrayal, and potential peril at every turn, LAIR OF THE LION is a must read, especially on those dark rainy nights, when the wind howls it's anger at the world. Kudos Ms. Feehan, you have penned a page-turner -- good to the last drop.
Reviewed by Bee
Ms. Feehan has produced another wonderfully constructed story, as is her trademark, fashioning for us a world to lose ourselves in, knowing that we trust her to keep us enthralled to the very end!