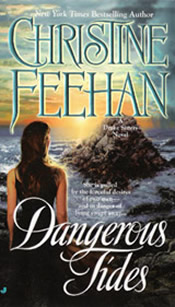 With her sensual blend of paranormal romance and breathless suspense, New York Times bestselling author "Christine Feehan boldly goes where no writer has ever gone"*. Now she introduces Libby Drake, of the magical Drake sisters—each mysterious, gifted, and enchanted by prophecies of love…
Dr. Libby Drake is sensible and practical. To her more adventurous sisters, she's always been the "good girl". Certainly not the kind to attract the attention of a genius like Ty Derrick—until a tragic accident leaves the handsome biochemist at her mercy.
Acting on her uncanny ability to heal, she stirs in the reawakened Ty his own long-suppressed desires for the woman who saved his life. But he's not the only man with designs on Libby Drake. Her miraculous and selfless power has also captured the attention of a dangerously influential admirer. He's pursuing the elementally gifted beauty for his own wicked purpose. And he's willing to go to deadly lengths to make it happen.
Click Here to Read Chapter 1
Release Date: June 27, 2006
Number of Pages: 368 pages
Publisher: Jove
Language: English
ISBN: 0515141542
---
~ORDER DANGEROUS TIDES~
Order Mass Market Paperback

Amazon.com
BarnesAndNoble.com
Walmart.com

printable order form for bookstore

Order E-Book

Amazon.com (Kindle)
BarnesAndNoble.com (Nook)
ItunesApple.com (Ipad)
Ebooks.com (various devices)

Order Audiobook

Audible.com
Recorded Books

Order UK Paperback

Amazon.co.uk
LittleBrown.co.uk

Gezeiten der Sehnsucht
Dangerous Tides in German

Mareas Peligrosas
Dangerous Tides in Spanish

Order Large Print

Amazon.com
---

~AUTHORS NOTES ~


I always enjoy visiting the Drake family so much. The book involves magic and of course trouble as the sisters can't seem to stay out of it much to the chagrin of their men. The book takes us from the Northern California coast to the steamy jungles of South America and returns to the town of Sea Haven. As always there is action and humor with the Drake sisters.
---
~LIBBY DRAKE'S JOURNAL~
---
~FOG: WHICH DRAKE SISTER ARE YOU?~
Take our new FOG online quiz Which Drake Sister Are You? to find out which Drake Sister you are the most like and to get the new Turbulent Sea Screensaver! You can post your results on myspace, facebook, or your favorite blog.
---
~DANGEROUS TIDES FAQ's~
FAQ: What happened to page 333 & 334 in my copy of Dangerous Tides?
We are very sorry to hear that some readers have found printing problems with their copies of Dangerous Tides on pages 333 and 334. We have contacted the publisher about this problem, so hopefully future copies will not have this error.
We have also made the two pages that have light colored print on them available on the website, so you can print or view them for easier reading:
CLICK HERE TO VIEW PAGES 333 & 334
We are sorry for the inconvenience, and hope that this helps to solve the problem. Thank you again for your continued support and undertanding.
---
~DANGEROUS TIDES BESTSELLER LISTS~
NY Times Bestseller List
USA Today Bestseller List
Publisher's Weekly Bestseller List
Booksense Bestseller List
Waldenbooks Bestseller List
Borders Bestseller List
Barnes and Nobles Bestseller List
Books a Million Bestseller List
Amazon Bestseller List
---
~DANGEROUS TIDES REVIEWS~
Best Reviews
reviewed by Harriet Klausner
DANGEROUS TIDES is an excellent Drake sisters' tale due to the fascinating relationship between the witch and the scientist; however, interestingly the passion between them at times places the action on the back burner. Still Christine Feehan provides a strong story line that moves rather quickly forward as the lead couple "battle" one another before the real battle begins. Newcomers will want to read the previous Drake thrillers (see OCEANS OF FIRE and MAGIC IN THE WIND).
Christine Feehan is an undisputed master of the paranormal romance. She never fails to offer her readers a story filled with action and adventure, tempered with love and passion. The bonds of sisterhood, family and magic are seamlessly interwoven in each tale, making every book in this series something special. Libby and Tyson's story is another link in the incredible family saga of the Drake family. I can't wait for the next one.
Romantic Times Magazine
reviewed by Jill M. Smith

Usually, Dr. Libby Drake can use her extraordinary healing gift without doing damage to herself or her magical sisters. But when brilliant biochemist Ty Derrick is brought in suffering from massive head trauma, Libby nearly kills herself saving him.

Ty is a man of science and facts. His abrasive manner and lack of social skills hide a caring heart that is usually overruled by his head. Ty doesn't believe in magic and refuses to accept that Libby and her sisters have unique talents. When a second accident occurs while Libby and Ty are together, both suspect that someone is trying to kill them. But is Libby or Ty the true target? The magical Drake sisters can feel a malevolent force gathering its strength. Uncovering its origin and stopping it, however, will not be easy.

The bonds of sisterhood and magic continue to be lovingly explored in the powerful Drake Sisters series. One of Feehan's favorite subjects is the complex emotions that bind individuals together. Not only does her latest delve into that and resonate with passion, it's also rich with enchantment and spiced with danger. Pure magic!