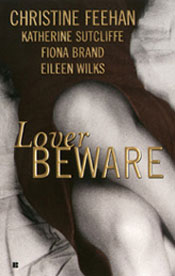 Be Warned….
Four of today's most popular authors push passion and intrigue to the limit in four thrilling original stories
In a sleepy coastal town…
Early retirement turns deadly for a defense expert--until a beautiful woman steps between him and his assassins…
Among women of the night…
An FBI profiler can see into the mind of a French Quarter killer targeting prostitutes-but not into the heart of the detective she must trust with her life…
Between Strangers…
Sometimes one glance is all it takes. And sometimes all it takes is one man to tear apart what fate-and desire-have brought together…
Under the light of the moon…
Investigating a series of grisly murders, a San Diego detective is caught off guard by the enigmatic man helping her find the killer…
Click Here to Read Magic in The Wind Chapter 1
Release Date: July 2003
Number of Pages: 368 pages
Publisher: Jove
Language: English
ISBN: 0425189058
---
~ORDER LOVER BEWARE~
---

~AUTHORS NOTES ~


Damon Wilder has found a last refuge in the small coastal town filled with wacky residents. Designer of a defense system, he has been stalked, wounded and saw his friend murdered. He just wants to be left alone and find a little peace. But danger follows him to the sleepy little town.
Sarah Drake has come home. Even the wind whispers her name. She is mysterious, magical and so different Damon can't help but be drawn to her. She lives in the cliff house and has six sisters, all as mysterious as she. Drawn into the web of danger, can Sarah save them both from the evil stalking Damon?
I have to admit this was a book of the heart. Seven sisters interacting, all magical and capable of extraordinary things. A town filled with wonderful people seen, first through the eyes of a stranger who can't accept them, and then seen through the eyes of one who loves them for all their differences. This is book of magic, of love and tolerance. . . well, with a bit of suspense and action thrown because that's the way my mind works!!!! I am pleased to say I'll be sharing this romantic suspense anthology with Katherine Sutcliffe, Fiona Brand, and Eileen Wilks.
---
~SARAH DRAKE'S JOURNAL~
---
~LOVER BEWARE REVIEWS~
Reviewed by Robin Peek
Word On Romance
LOVER BEWARE contains four stories that are exciting, breathtaking, and keep readers on the edge of their seats. From werewolves, to sisters with special gifts, to an FBI profiler, and last but not least, a couple who've carried a torch for each other for too many years, LOVER BEWARE has a story for everyone. All four ladies let their creativity flow with each word they write. When I opened the book, I found myself turning page after page quickly to get to the next one. Each character, and each storyline will garner a spot in this reader's heart long after I've moved on to another. "
Reviewed by Carol Carter
Romance Reviews Today

A departure from Christine Feehan's 'dark side', this short story isn't about vampires and doesn't have a gothic flavor. It introduces some of the seven sisters with special magical talents. They are a delight, and like sisters all over the world, they love to tease and are extremely protective of those they love. Ms. Feehan's words portray this love in a thread throughout her novella. Her tale holds humor, adventure, suspense, and sensual romance. I only wish this had been a full novel….. Yes, there is not only MAGIC IN THE WIND, there is magic in Christine Feehan's pen.
Reviewed by Janice Bennett
http://www.thebestreviews.com
"An exciting anthology" …lovers who find themselves facing danger together. ….Magic in the Wind,the opening story, is provided by popular best selling author Christine Feehan, and was a delightfully fresh and entertaining read. When Sarah and Damon meet, magic seems to happen, and he finds himself drawn to her. But then danger from his past comes calling... I happily anticipate more stories from this talented author featuring Sarah's other magical sisters . The sense of family and caring was beautiful, the magic was wonderful, and I want more!
Reviewed by Jill M. Smith


http://www.romantictimes.com
Cranking up the summer heat is Berkley's newest anthology. Bestselling author Feehan open with "Magic in the Wind" which explores the return home of an unusual defense expert. Sarah's newest assignment is to protect the reclusive Damon Wilder. Eerily, Damon's entrance into Sarah's life appears to trigger an ancient prophecy….Looking for a little tingle up your spine? Here is an anthology to provide just that thrill.
Reviewed by Harriet Klausner
http://www.thebestreviews.com
Posted June 23, 2003
"Excellent anthology"... "Military defense systems expert Damon hides from the threats to his life. In his new town, he hears strange whispers about his neighbor Sarah, her "sisters" and their otherworldly powers. Damon and Sarah instantly fall in love with one another. When his adversaries find him, Damon and Sarah try to keep each other safe. This strong story needs novels starring Sarah's siblings…… The novellas are well written and because the stories are so different this anthology will appeal to a wide variety of tastes."
Reviewed by Nichole Keeton
Old Book Barn Gazette
Posted June 20, 2003
"Suspenseful and wonderfully written novellas with a touch of the paranormal." MAGIC IN THE WIND by Christine Feehan is the story of Damon Wilder, injured, burnt-out and retired scientist who once worked for the defense department, and Sarah Drake, eldest of seven Drake daughters and local legend. Sarah returns to her hometown on the wings of the rumors of her coming. Trouble follows her, but it's not her trouble. She's been retained to protect Damon from the people who previously injured him, to try to halt the shadow of death that rides him. However, once she meets him, it becomes obvious that while she may be his defender, he is her fate. I thoroughly enjoyed this story and really hope that it's the beginning of another series by this excellent (and, thankfully, prolific) author. The secondary characters, especially Sarah's sisters, are just as fascinating as the main characters.