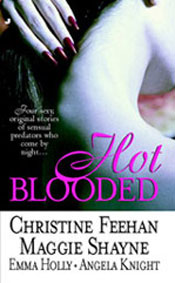 DARK HUNGER
by Christine Feehan
In a dark jungle a beautiful activist liberates animals from a secret laboratory-and stumbles across an unexpected prisoner. She releases the Carpathian from his bonds-only to unleash his voracious appetite on herself....

AWAITING MOONRISE
by Maggie Shayne

A science professor enters the steamy bayou to find a new species of animal, convinced that its presence is behind the stories of lycanthropy in the region, but finds herself tempted by a legendary creature straight out of her most sensual nightmare....
THE NIGHT OWL
by Emma Holly
Little ever seams to stir in the sleepy woods of a small Vermont town, until a new owner takes over the exclusive local inn. He is centuries old and has traveled far and wide to find his queen-and now nothing will stop him from claiming her....
SEDUCTION'S GIFT
by Angela Knight
All's fair in the war between desire and resistance when a lady cop pulls over a speeder-and finds an immoral lover who is determined to seduce her into accepting her own passionate destiny..
Click Here to Read Dark Hunger Chapter 1

Other Authors: Maggie Shayne, Emma Holly, & Angela Knight
Release Date: August 31 2004
Number of Pages: 400 pages
Publisher: Jove Books
Language: English
ISBN: 0515136964
This is an anthology with Maggie Shayne, Emma Holly and Angela Knight, three very wonderful writers who can really deliver 'hot-blooded' stories. My contribution is titled Dark Hunger and is the story of Juliette and Riordan, an ancient Carpathian hunter sent to South America to hunt the vampire. Juliette is a descendent of a dying race. Together they race to save her sister, taken by a fanatical group for their own reasons. This story is very steamy and filled with action.

Dark Hunger is the first in a five-book series within the Dark Books about the South American brothers. The second is Dark Secret.
---
~DARK HUNGER IN MANGA~
I'm VERY excited to announce that
Dark Hunger
(a short story from the anthology Hot Blooded) was released in
manga format
on October 2nd, 2007! This is the first time any of my books have been released in this format and I can't wait. Here is a little preview of some of the art work:
Click Here for more information about Dark Hunger in Manga format

---
~HOT BLOODED AWARDS & HONORS~
Winner for the 2004 PEARL Awards
for Best Anthology: Hot Blooded

Winner for the 2004 Hughey Awards
for Best Anthology: Hot Blooded

---
~HOT BLOODED BESTSELLER LISTS~
Amazon Bestseller List
Barnes & Noble Bestseller List
New York Times Bestseller List
Sirenbooks Bestseller List
Publisher's Weekly Bestseller List
USA Today Bestseller List
Waldenbooks Bestseller List
---
~HOT BLOODED REVIEWS~
Romantic Times

-- Top Pick
The always-awesome Feehan kicks things off with "Dark Hunger" the latest chapter in the ongoing Carpathian series. Juliette has no idea what she is unleashing when she frees captive Riordan.....

This dark, dangerous and extremely sexy anthology is just what the doctor ordered. With authors like these, you are guarenteed hot, spicy, thrilling writing.