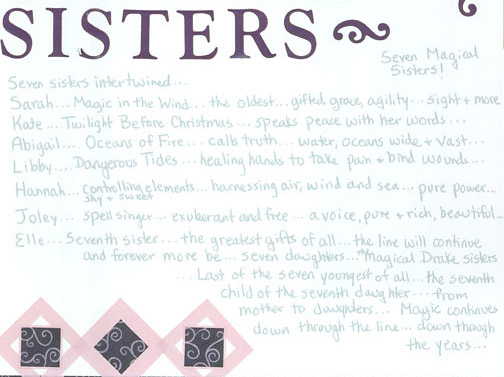 Seven Magical Sisters!
Seven sisters intertwined…
Sarah.. Magic in the Wind.. the oldest… gifted grace, agility.. sight & more
Kate.. Twilight Before Christmas.. speaks peace with her words
Abigail.. Oceans of Fire.. healing hands to take pain and bind wounds
Libby.. Dangerous Tides.. healing hands to take pain and bind wounds..
Hannah.. controlling elements… harnessing air, wind and sea.. pure power.. shy & sweet
Joley.. spell singer.. exuberant and free.. a voice, pure and rich, beautiful..
Elle.. the seventh sister.. the greatest gifts of all.. the line will continue and forever more be.. seven daughters.. the Magical Drake Sisters… Last of the seven, youngest of all.. the seventh child of the seventh daughter.. from mother to daughter.. Magic continues down through the line.. down through the years.
---
After a long, exhausting day.
Typical Abbey; a kind heart and shoulder to lean on. She's always there for everyone. And so beautiful in every way. Pure Goodness.
---

Joley's Haircut
Can you believe Joley cut off all that gorgeous hair? She looks great!
---
Love her new haircut. Joley is the life of every party. Her voice and spirit are true magic. Joley is the real spell-singer.
---
Just hanging out and relaxing at the Drake sister slumber party, sleepover. The times when we are all at home are so rare and precious. Making memories.. moments we'll never forget!