Libby travels all over the world as a volunteer for Doctors Without Borders and other organizations. In fact, sometimes she gives too much time, energy and all she has … sometimes the sisters have to hold her down and sit on her … which of course leads to tickling … and laughing … and Hannah's fabulous cookies … and stories … more laughs and love!

---
One time Libby decided to do "bad girl" and litter to prove it …
so she opened the car window and tossed out the ice water.
When we teased her about her "littering" she gave us a two (maybe three)
hour lecture on the dangers of Styrofoam …
of course she wouldn't litter with the Styrofoam cup …
Tyson's the perfect protector for our Libby.
He keeps her in line … run … help …
Libby's trying to go "bad girl" on me now. Run for your life!
---

Libby has always been the "good girl," now she wants everyone to know she's got a bit of the "bad girl" in her too.
We all laugh because she is so sweet, good and kind. How could she be anything but the best?
She's just too sweet to be bad, unless it's to her man and we won't go there. =)
We all adore her because of her nature … so giving, selfless and shining.
She can just stand next to you, touch you and you feel a thousand times better! She has such a gift.
---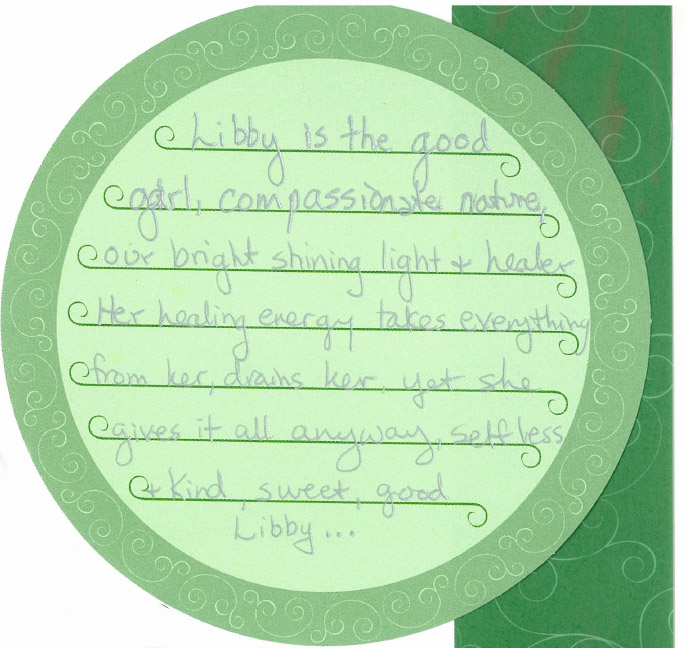 Libby is the good girl, compassionate nature, our bright shining light and healer.
Her healing energy takes everything from her, drains her,
yet she gives it all anyway, selfless and kind, sweet, good Libby…