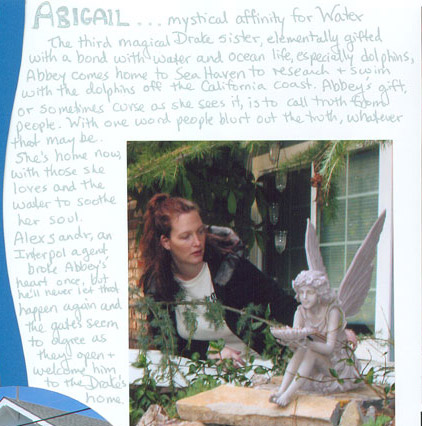 ABIGAL… mystical affinity for Water. The third magical Drake Sister, elementally gifted with a bond with water and ocean life, especially dolphins, Abby comes home to sea Haven to research and swim with the dolphins off the California coast. Abby's gift, or sometimes curse as she sees it, is to call truth from people. With one word people blurt out the truth, whatever that may be. She's home now with those she loves and the water to soothe her soul. Alexsandr, an Interpol agent broke Abbey's heart once, but he'll never let that happen again and the gate's seem to agree as they open and welcome him to the Drake home.
---
Intelligent, brilliant with a Ph.D. and big heart to match. Spell singer… truth speaker. Her heart is as big as the ocean!
---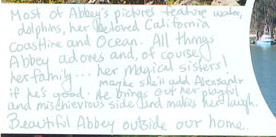 Most of Abby's pictures feature water, dolphins, her beloved California coastline and ocean. All things Abbey adores and, of course, her family… her magical sisters! Maybe she'll add Alexsandr if he's good. He brings out her playful and mischievous side and makes her laugh. Beautiful Abbey outside our home.