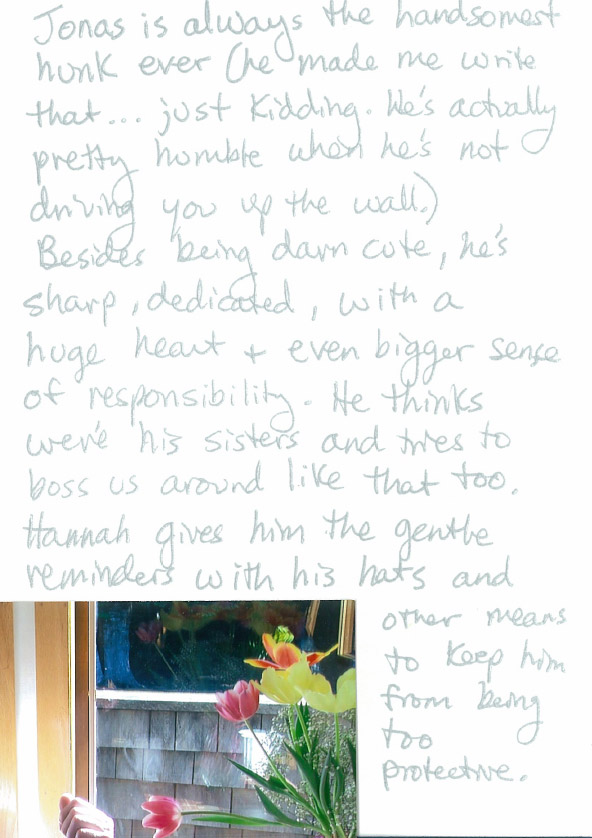 Jonas is always the handsomest hunk ever (he made me write that) … just kidding. He's actually pretty humble when he's not driving you up the wall. Besides being darn cute, he's sharp, dedicated, with a huge heart and even bigger sense of responsibility. He thinks we are his sisters and tries to boss us around like that too. Hannah gives him the gentle reminders with his hats and other means to keep him from being too protective.
---
Jonas has always been family. We love him. He's the brother we always wanted. He's practically lived at our house since he was a boy. He's ours … even when he drives us crazy.
---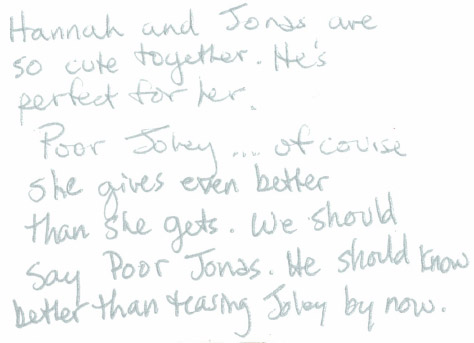 Hannah and Jonas are so cute together. He's perfect for her. Poor Joley … of course she gives even better than she gets. We should say poor Jonas. He should know better than teasing Joley by now.
---
Joley and Jonas are like two kids in the terrible two's. Pestering each other to death. Only Hannah is meaner to poor Jonas. He's always been Aunt Carol's favorite too. She loves everyone but he holds a special corner of her soft heart. Jonas adores Aunt Carol too. He loves looking through the albums with her.