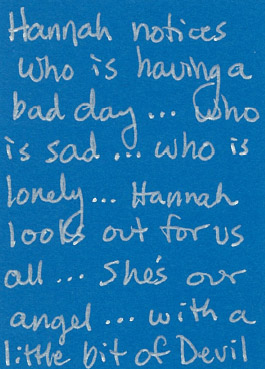 Hannah notices who is having a bad day … who is sad … who is lonely … Hannah looks out for us all … she's our angel … with a little bit of devil.
---
Shy, sweet, mischievous, fun! What will Hannah do next to make us all laugh? The naughty angel! Ask Hannah about the salamanders needing rescue on the road.
---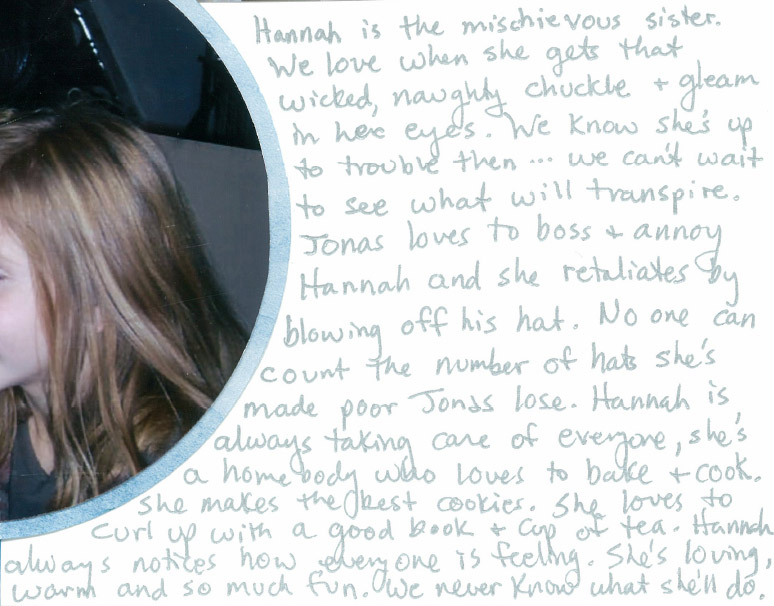 Hannah is the mischievous sister. We love when she gets that wicked, naughty chuckle and gleam in her eyes. We know she's up to trouble then … we can't wait to see what will transpire. Jonas loves to boss and annoy Hannah and she retaliates by blowing off his hat. No one can count the number of hats she's made poor Jonas lose. Hannah is always taking care of everyone. She's a home body who loves to bake and cook. She makes the best cookies. She loves to curl up with a good book and cup of tea. Hannah always notices how everyone is feeling. She's loving, warm and so much fun. We never know what she'll do.