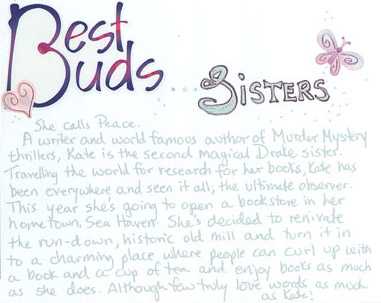 Best Buds.. Sisters
She calls Peace. A Writer and world famous author of Murder Mystery thrillers, Kate is the second Magical Drake Sister. Traveling the world for research for her books, Kate has been everywhere and seen it all, the ultimate observer. This year she's going to open a bookstore in her hometown, Sea Haven. She's decided to reinvade the run-down historic old mill and turn it into a charming place where people can curl up with a book and a cup of tea and enjoy books as much as she does. Although few truly love words as much as Kate!
---
KATE… Bedroom Eyes, Glorious hair, a walk that melts him…
Beautiful, Quiet, Sensual, Travels the World.. researching.
---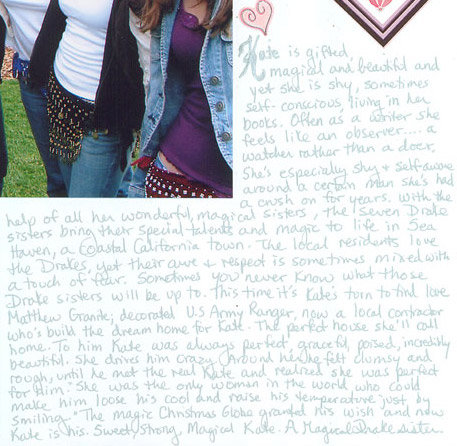 Kate is gifted, magical and beautiful and yet she is shy, sometimes self-conscious, living in her books. Often as a writer she feels like an observer… a watcher rather then a doer. She's especially shy and self-aware around a certain man she's had a crush on for years. With the help of all her wonderful, magical sisters, the seven Drake sisters bring their special talents and magic to life in Sea Haven, a coastal California Town. The local residents love the Drakes, yet their awe and respect is sometimes mixed with a touch of fear. Sometimes you never know what those Drake sisters will be up to. This time it's Kate's turn to find love. Mathew Granite; decorated U.S. Army Ranger, now a local contractor who's built the dream home for Kate. The perfect house she'll call home. To him Kate was always perfect, graceful, poised, incredibly rough, until he met the real Kate and realized she was perfect for him. "She was the only women in the world who could make him loose his cool and raise his temperature just by smiling." The magic Christmas globe granted his wish and now Kate is his. Sweet, strong, magical Kate. A Magical Drake Sister.
---

Book signings.. everyone wants Kate's autograph!
---
Kate loves the written word.. loves and lives in books and writing her bestselling novels and murder mysteries. Courageous Kate... Speaks Peace with a word!