Wedding Fun
Trying on Bridal Dresses
What a year for Weddings.. Sarah's, Kate's, Abigail's… Our day trying on Wedding dresses for the big days ahead.
---
Sarah looks beautiful in her dress
---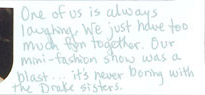 One of us is always laughing. We just have too much fun together. Our mini-fashion show was a blast.. it's never boring with the Drake Sisters.
---
Love is in the air!
One by one..
The Drake sisters turn life into precious moments and fun. We all tried on our favorites for a year of weddings. It seems like one Drake sister after another gets ready for her big day as a bride to her true love.