Kate.. can you believe it?.. perfect Kate caught in the act.. blowing a huge bubble and our picture.
---
With her sisters Hannah can be herself. Her fun playfulness and zany sense of humor comes out. She relaxes and lets out her charm. Spell singer extraordinaire, Hannah is a treasure. A one-of-a-kind! Our priceless sister!
---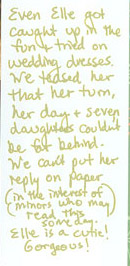 Even Elle got caught up in the fun and tried on wedding dresses. We teased her that her turn, her day and seven daughters couldn't be far behind. We can't put her reply on paper (in the interest of minors who may read this someday.) Elle is a cutie! Gorgeous!
---
Love her new haircut. Joley is the life of every party. Her voice and spirit are true magic. Joley is the real spell-singer.
---
Just hanging out and relaxing at the Drake sister slumber party, sleepover. The times when we are all at home are so rare and precious. Making memories.. moments we'll never forget!