---
I have no control over the release dates given by the publisher. I have worked hard to get these books out to readers in a timely fashion but unfortunately, the publishing company has many difficulties in mapping out a line-up with books coming so close together. The dates are as listed, but please remember when they are given out far in advance, they are subject to change. I will do my best to let you know if there are any subsequent revisions to the schedule.

Latest News: Spider Game, the next book in my GhostWalker Series, will be released January 26, 2016. Fire Bound, the next in the Sisters of the Heart Sisters, will be released April 26, 2016. I will be releasing the first of a new series titled Shadow Rider on June 28th, 2016. Leopard's Fury, the next in the Leopard Series, will also be released on November 8th, 2016.

For the Dark Series I have two new stories coming out in 2016 and a re-issue. Dark Promises, the next book in the Dark Series, is coming out March 15, 2016 followed by Dark Carousel which comes out August 2nd, 2016. Dark Ghost will be released for the first time in paperback format (was previously released in hardcover) & Dark Crime will be released in ebook format on December 13th (was previously released in anthology Edge of Darkness).
I also have a re-issue of The Twilight Before Christmas coming on in November on the 22nd.

---
---
~RELEASE DATES FOR 2016 / 2017~
| | | | | |
| --- | --- | --- | --- | --- |
| Book Title | | Release Date | | |
| --- | | --- | | --- |
| Spider Game (NEW paperback) | | January 26, 2016 | | Jove |
| Dark Promises (NEW hardcover) | | March 15, 2016 | | Jove |
| Fire Bound (NEW paperback) | | April 26, 2016 | | Jove |
| Shadow Rider (NEW paperback) | | June 28, 2016 | | Jove |
| Dark Carousel (NEW hardcover) | | August 2, 2016 | | Jove |
| Dark Ghost (RE-ISSUE paperback) | | September 27, 2016 | | Jove |
| Leopard's Fury (NEW paperback) | | November 8, 2016 | | Jove |
| Twilight Before Christmas (RE-ISSUE) | | November 22, 2016 | | Jove |
| Dark Crime (RE-ISSUE ebook) | | December 13, 2016 | | Jove |
| Power Game (NEW hardcover) | | January 24, 2017 | | Jove |
| Dark Promises (RE-ISSUE paperback) | | February 21, 2017 | | Jove |
| Bound Together (NEW paperback) | | March 21, 2017 | | Jove |
| | | | | |
I have no control over publication dates. All dates are subject to change. More dates to be posted soon!
---
---
---
~THE DRAKE SISTER SERIES~
---
---
~SISTERS OF THE HEART SERIES~
---
---
---
---
~WHAT I'M CURRENTLY WORKING ON~
GHOSTWALKERS: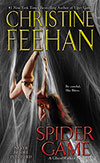 Spider Game: The Cajun dive in the middle of the godforsaken swamps wasn't exactly Trap Dawkins' idea of fun. But the GhostWalker wasn't there for a good time. He was looking for her. Cayenne. It's where she found her victims. Poor suckers. Then again, who wouldn't want to leave a place like this with a woman like her?

It's not Cayenne's fault. Locked up, experimented on and never knowing kindness, she was bred this way—with a heart of pure venom. Trap understands her. He survived his own dark past and he shares her desire for getting even. But now Trap's greatest danger is Cayenne herself. Because what's inside her is hard to control—especially when it's aroused by a lover as reckless as Trap.

LEOPARD'S SERIES: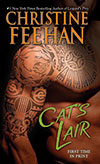 Cat's Lair: Catarina Benoit had been sold to the biggest criminal in the bayous when she was just a child. He never tried to hide the ugly things he did, or the brutal ways he ended those who opposed him. She finally escaped and lived as off the radar as possible, knowing if he found her, he would kill the people that meant something to her, or anyone who helped her. She knew he wanted something from her, but she was never certain what it was, only that he was waiting and he wanted her close at all times as she matured. She knew he would come to find her and she worked very, very hard to be ready. Falling in love wasn't part of her plan. Finding people she cared about and a job that meant something wasn't a good idea. Not for someone like her...

For more on Cat's Lair click here.

SEA HAVEN SERIES: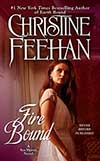 Fire Bound: The #1 New York Times bestselling author of the Sea Haven novels returns to the circle of the six sisters of the heart, bound by the elements—and to one who possesses the power to inflame the most dangerous passions of all.

Flame-haired Lissa Piner is a skilled glass blower whose delicate gift conceals a burning inner strength that can destroy as exquisitely as it can create. Commissioned to design chandeliers for a string of luxury hotels, her remarkable skills have taken her to Italy. But Lissa's real mission there is a secret. For her entire life has been a lie, leading to a chance to avenge a terrible wrong.

Enlisted as her bodyguard is Casmir Prakenskii, a trained assassin living off the grid. In Lissa, he sees a kindred spirit—something unexpected and wicked, mysterious and sensual. But more than desire is about to bring them together: because both of their pasts cry out for revenge. And for two people with this many secrets, this much passion, and this many enemies, someone is bound to get burned.

For more on Fire Bound click here.
DARK SERIES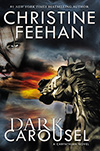 Dark Carousel: In the new Carpathian novel from #1 New York Times bestselling author Christine Feehan, a woman falls prey to the seductive allure of the past—and a vampire warrior's intoxicating embrace...

The moment Charlotte Vintage walks into his club, Tariq Asenguard's blood is set on fire. The ancient Carpathian had given up hope of finding his lifemate, but now he will do anything to make Charlotte his own. What Tariq doesn't know is that Charlotte is using herself and her best friend as bait—to try to draw out the bloodthirsty killers who have already murdered Charlotte's brother and mentor.

Charlotte is familiar with Tariq. Not only is he one of the richest and most eligible bachelors in the city, but he's also a renowned collector of old carousel horses, which Charlotte restores. Their shared passion opens Charlotte up to trusting him with her life and with the desire she can no longer control. But it also makes her vulnerable to a centuries-old curse that will unite her and Tariq in a war against the enemies of humans and Carpathians alike...
For more on Dark Carousel click here.
SHADOW SERIES: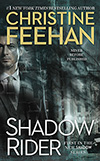 Shadow Rider: The #1 New York Times bestselling "queen of paranormal romance"* is back with a sexy new series starring a Chicago crime family that hides a dark, mystical secret...

Whether it's fast cars or fast women, Stefano Ferraro gets what he wants. When he's not fodder for the paparazzi, he commands Ferraro family businesses—both legitimate and illegitimate.

While their criminal activity is simply a rumor yet to be proven, no one knows the real truth. The Ferraros are a family of shadow riders capable of manipulating light and dark, an ability Stefano thought ran in his family alone—until now...

With little left to her name, Francesca Cappello has come to Chicago in hopes of a new life. She wasn't expecting to attract the attention of a man with primal hunger in his eyes, driven to claim her as his to protect and to please. And if he discovers her secret, it could ruin her...