---
I have no control over the release dates given by the publisher. I have worked hard to get these books out to readers in a timely fashion but unfortunately, the publishing company has many difficulties in mapping out a line-up with books coming so close together. The dates are as listed, but please remember when they are given out far in advance, they are subject to change. I will do my best to let you know if there are any subsequent revisions to the schedule.

Latest News: Viper Game, the next book in my GhostWalker Series, will be released January 27th, 2015. Cat's Lair, the next book in the Leopard Series, is coming out May 5, 2015 followed by Wild Cat which comes out November 24th, 2015. Earth Bound, the next in the Sisters of the Heart Sisters, will be released July 7, 2015.

For the Dark Series I have two new stories coming out in 2015 and a re-issue. Dark Crime, a short story, will be released in the anthology titled Edge of Darkness along with stories from Maggie Shayne and Lori Herter on August 4th, 2015. Dark Ghost will be released in hardcover format on September 1st, 2015. Dark Blood will be reissued in paperback format on Septemeber 29th, 2015.

Dark Promises will be released on March 1st on 2016.
---
---
~RELEASE DATES FOR 2015 / 2016~
I have no control over publication dates. All dates are subject to change. More dates to be posted soon!
---
---
---
~THE DRAKE SISTER SERIES~
---
---
~SISTERS OF THE HEART SERIES~
---
---
---
~WHAT I'M CURRENTLY WORKING ON~
GHOSTWALKERS: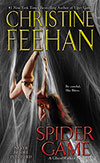 Spider Game: The Cajun dive in the middle of the godforsaken swamps wasn't exactly Trap Dawkins' idea of fun. But the GhostWalker wasn't there for a good time. He was looking for her. Cayenne. It's where she found her victims. Poor suckers. Then again, who wouldn't want to leave a place like this with a woman like her?

It's not Cayenne's fault. Locked up, experimented on and never knowing kindness, she was bred this way—with a heart of pure venom. Trap understands her. He survived his own dark past and he shares her desire for getting even. But now Trap's greatest danger is Cayenne herself. Because what's inside her is hard to control—especially when it's aroused by a lover as reckless as Trap.

LEOPARD'S SERIES: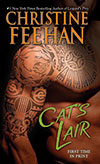 Cat's Lair: Catarina Benoit had been sold to the biggest criminal in the bayous when she was just a child. He never tried to hide the ugly things he did, or the brutal ways he ended those who opposed him. She finally escaped and lived as off the radar as possible, knowing if he found her, he would kill the people that meant something to her, or anyone who helped her. She knew he wanted something from her, but she was never certain what it was, only that he was waiting and he wanted her close at all times as she matured. She knew he would come to find her and she worked very, very hard to be ready. Falling in love wasn't part of her plan. Finding people she cared about and a job that meant something wasn't a good idea. Not for someone like her...

For more on Cat's Lair click here.

SEA HAVEN SERIES: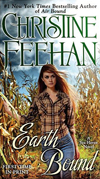 Earth Bound: Gavriil Prakenskii was beyond all saving. He knew that and had known it for a long time. His brother Viktor and he had made a deal with the devil in order to keep their youngest brother safe. The devil broke their agreement and it was up to Gavriil to warn Ilya he was no longer safe and to lure any assassins away from his brother. He didn't expect to find a young woman as broken as he was. He didn't expect to find a savior. A miracle. He didn't expect to find Lexi Thompson and fall under her spell so deeply that nothing else mattered to him but that he lay his claim to her.

For more on Earth Bound click here.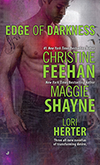 Edge of Darkness / Dark Crime: Take an all-new excursion in the world of the Carpathians from #1 New York Times bestselling author Christine Feehan--joined here by Maggie Shayne and Lori Herter, two other masters of vampire romance in an original anthology that takes dark fantasy to rapturous new heights.
Dark Crime by Christine Feehan
Blaze knows who killed her father and she has merciless plans for payback. Until a phone call from a seductive stranger pleads with her to wait. Retribution is in his blood, too. Now, he and Blaze will be united in the blood of the guilty. Tonight, vengeance is theirs.
Dead by Twilight by Maggie Shayne
Bloodsuckers may be an accepted minority but one of them is getting away with murder. Until a female vamp teams with a mortal detective to end the killing spree. Now the night belongs to them--and so does every pleasure and danger lurking in the shadows.
Cimarron Spirit by Lori Herter
While excavating an Anasazi ruin, archeologist Annie Carmichael uncovers the resting place of a centuries-old vampire who finds in Annie the liberating mate he has longed for. But how much is Annie expected--or willing--to surrender for the man she now desires?
For more on Edge of Darkness click here.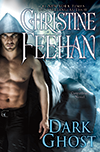 Dark Ghost: Andre—the ghost—had traveled through the long range of the Carpathian Mountains to the forbidden monastery where ancients without lifemates who were far too dangerous to live among humans or Carpathians had banded together in an effort to live out their remaining days until they could leave the earth with honor. Along the way he came across the path of a master vampire and decides to go down taking out one of the undead.

Teagan Joanes has come to the Carpathian Mts to search for a particular stone to help cure her grandmother's insanity. Grandma Trixie has lately been muttering nonsense about a man named Gary, a monastery and vampires. She even bought a vampire killing kit off the internet. Teagan's friend from school agrees to guide her into the mountains. Too bad he's a serial killer. She has a tendency to get into trouble wherever she goes and she's not eager to tell Grandma Trixie about that or the fact that she's falling madly in love with a man who sleeps in the ground and needs blood to survive!
For more on Dark Ghost click here.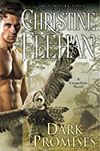 Dark Promises: Gary Jansen has been in love with Gabrielle for a very long time. He did the honorable thing and let her go, because she was Carpathian and there were so few females to become lifemates to those who had waited for so long. But he is fully Carpathian, and a Daratrazanoff. Over the years he's honed his fighting skills and has fought beside the warriors of the Carpathian people as well as working on solutions to their problems. Everything has changed. The ritual words are imprinted in him, given to him the ancient, long dead warriors of the Carpathian people. Who is the mysterious male courting Gabrielle. Is she truly his lifemate, his other half?

Trixie Joanes has gone to the Carpathian Mts in search of her wayward granddaughter. Teagan has a track record of getting into trouble and she's fallen in love and says she wants to get married. Trixie is not about to allow some foreigner to carry off her beloved granddaughter. She's come to fight a battle and she has every intention of winning. But then who is this mysterious ancient who doesn't seem to notice her biting (but witty) sarcasm. And at her age, what was she doing finding a man like that hot???