---
I have no control over the release dates given by the publisher. I have worked hard to get these books out to readers in a timely fashion but unfortunately, the publishing company has many difficulties in mapping out a line-up with books coming so close together. The dates are as listed, but please remember when they are given out far in advance, they are subject to change. I will do my best to let you know if there are any subsequent revisions to the schedule.

Latest News: I have a new Dark Series trilogy in the works and part one will be released September 3, 2013. The first book, Dark Lycan, has Fenris and Tatijana. Fenris is Dimitri's brother. I was so excited when he started talking to me because I knew his brother wouldn't be far behind! The second book, Dark Wolf is Skyler and Dimitri's story.. a story that is a decade in the making... and will finally be published in January 7, 2014!! The third book, Dark Blood, in the new trilogy is a Lycan hunter by the name of Zev who is lifemate to Bronnie, Tatijana's sister. It is scheduled to be coming out in Septembe of 2014. Dark Storm will be re-issued in paperback format as of August 27, 2013. The paperback re-issue of Dark Lycan in paperback will be coming out March 25th, 2014. The paperback re-issue of Dark Wolf comes out August 5, 2014. The next Sister of the Heart book, Air Bound, will be coming out in May 27, 2014.
---
---
~RELEASE DATES FOR 2014~
| | | | | |
| --- | --- | --- | --- | --- |
| Book Title | | Release Date | | |
| --- | | --- | | --- |
| | | | | |
| Dark Wolf (NEW hardcover) | | January 7, 2014 | | Jove |
| Dark Lycan (paperback re-issue) | | May 2014 | | Jove |
| Air Bound (NEW paperback) | | May 27, 2014 | | Jove |
| Dark Wolf (paperback re-issue) | | August 5, 2014 | | Jove |
| Dark Blood (NEW hardcover) | | September 2, 2014 | | Jove |
| Viper Game (NEW paperback) | | January 27, 2015 | | Jove |
| Cat's Lair (NEW paperback) | | April 28, 2015 | | Jove |
| Earth Bound (NEW paperback) | | June 30, 2015 | | Jove |
| Dark Ghost (NEW hardcover) | | September 8, 2015 | | Jove |
| Dark Blood (paperback re-issue) | | September 29, 2015 | | Jove |
| Dark Promises (NEW hardcover) | | March 1, 2016 | | Jove |
| | | | | |
I have no control over publication dates. All dates are subject to change. More dates to be posted soon!
---
---
---
~THE DRAKE SISTER SERIES~
---
---
~SISTERS OF THE HEART SERIES~
---
---
---
~WHAT I'M CURRENTLY WORKING ON~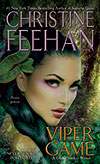 Viper Game: Viper Game is the story of Wyatt Fontenot. His story takes place in the bayou. He and two of his fellow Team Four members are recovering from wounds received in battle and have gone back to the bayou because Nonny, Wyatt's Grandmother, has been assaulted and needs help. The mental hospital that burned to the ground has been rebuilt into a plastic's company. But the fences are high and something from that facility has escaped into the swamps.
For more on Viper Game click here.

LEOPARD'S SERIES: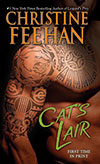 Cat's Lair: Catarina Benoit had been sold to the biggest criminal in the bayous when she was just a child. He never tried to hide the ugly things he did, or the brutal ways he ended those who opposed him. She finally escaped and lived as off the radar as possible, knowing if he found her, he would kill the people that meant something to her, or anyone who helped her. She knew he wanted something from her, but she was never certain what it was, only that he was waiting and he wanted her close at all times as she matured. She knew he would come to find her and she worked very, very hard to be ready. Falling in love wasn't part of her plan. Finding people she cared about and a job that meant something wasn't a good idea. Not for someone like her...

SEA HAVEN SERIES: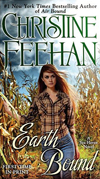 Earth Bound: Gavriil Prakenskii was beyond all saving. He knew that and had known it for a long time. His brother Viktor and he had made a deal with the devil in order to keep their youngest brother safe. The devil broke their agreement and it was up to Gavriil to warn Ilya he was no longer safe and to lure any assassins away from his brother. He didn't expect to find a young woman as broken as he was. He didn't expect to find a savior. A miracle. He didn't expect to find Lexi Thompson and fall under her spell so deeply that nothing else mattered to him but that he lay his claim to her.


DARK SERIES:

Dark Ghost: Andre--the ghost--had traveled through the long range of the Carpathian Mountains to the forbidden monastery where ancients without lifemates who were far too dangerous to live among humans or Carpathians had banded together in an effort to live out their remaining days until they could leave the earth with honor. Along the way he came across the path of a master vampire and decides to go down taking out one of the undead.

Teagan Joanes has come to the Carpathian Mts to search for a particular stone to help cure her grandmother's insanity. Grandma Trixie has lately been muttering nonsense about a man named Gary, a monastery and vampires. She even bought a vampire killing kit off the internet. Teagan's friend from school agrees to guide her into the mountains. Too bad he's a serial killer. She has a tendency to get into trouble wherever she goes and she's not eager to tell Grandma Trixie about that or the fact that she's falling madly in love with a man who sleeps in the ground and needs blood to survive!

Dark Promises: Gary Jansen has been in love with Gabrielle for a very long time. He did the honorable thing and let her go, because she was Carpathian and there were so few females to become lifemates to those who had waited for so long. But he is fully Carpathian, and a Daratrazanoff. Over the years he's honed his fighting skills and has fought beside the warriors of the Carpathian people as well as working on solutions to their problems. Everything has changed. The ritual words are imprinted in him, given to him the ancient, long dead warriors of the Carpathian people. Who is the mysterious male courting Gabrielle. Is she truly his lifemate, his other half?

Trixie Joanes has gone to the Carpathian Mts in search of her wayward granddaughter. Teagan has a track record of getting into trouble and she's fallen in love and says she wants to get married. Trixie is not about to allow some foreigner to carry off her beloved granddaughter. She's come to fight a battle and she has every intention of winning. But then who is this mysterious ancient who doesn't seem to notice her biting (but witty) sarcasm. And at her age, what was she doing finding a man like that hot???