---
I have no control over the release dates given by the publisher. I have worked hard to get these books out to readers in a timely fashion but unfortunately, the publishing company has many difficulties in mapping out a line-up with books coming so close together. The dates are as listed, but please remember when they are given out far in advance, they are subject to change. I will do my best to let you know if there are any subsequent revisions to the schedule.

---
---
~RELEASE DATES FOR 2018~
| | | | | |
| --- | --- | --- | --- | --- |
| Book Title | | Release Date | | |
| --- | | --- | | --- |
| Judgment Road (NEW paperback) | | January 23, 2018 | | Jove |
| Covert Game (NEW hardcover) | | March 20, 2018 | | Jove |
| Shadow Keeper (NEW paperback) | | May 29, 2018 | | Jove |
| Dark Challenge (RE-ISSUE paperback) | | June 26, 2018 | | Avon |
| Dark Legacy (RE-ISSUE paperback) | | August 28, 2018 | | Jove |
| Dark Sentinal (NEW hardcover) | | September 4, 2018 | | Jove |
| Covert Game (RE-ISSUE paperback) | | October 2, 2018 | | Jove |
| Leopard's Run (NEW paperback) | | October 30, 2018 | | Jove |
I have no control over publication dates. All dates are subject to change. More dates to be posted soon!
---
---
---
~THE DRAKE SISTER SERIES~
---
---
~SISTERS OF THE HEART SERIES~
Bound
Together
Fire
Bound
Earth
Bound
Water
Bound
03/21/17
04/26/16
07/7/15
05/27/13
12/27/11
11/02/10
paperback
paperback
paperback

paperback

paperback

paperback
---
---
---
---
---
~WHAT I'M CURRENTLY WORKING ON~

GHOSTWALKER SERIES

03-20-2018
Covert Game:


International intrigue and a suicide mission bring Gino Mazza and the GhostWalker team into the crosshairs of a Chinese crime lord and is sadistic associate.

World renowned A.I. specialist and international speaker Zara Hightower is sent in by Dr. Whitney on a high tech, high stakes assignment: Psychically download the international secrets collected by a dangerous and insane business tycoon and wipe his servers clean of all stolen data on the GhostWalker program.

Tortured and alone, Zara hardly knows if she can trust Gino or his team, but something about him tells him he's every bit as dangerous as the man who is keeping her prisoner, which makes him the perfect protector. Trust is hard won, and loyalty is questioned as Gino must face a decision that could rip the team apart.

And the longer he spends protecting Zara, the more their attraction grows, and the harder it makes it to kill her if he's ordered to.
Click here to learn more.

SHADOW SERIES:

05-29-2018
Shadow Keeper: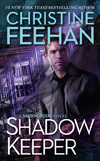 The shadows bring justice and the Ferraro family, but Giovanni Ferraro can't ride the shadows until he fully heals from being shot weeks ago. His temporary assignment is to give the paparazzi a show of a billionaire playboy and bad behavior worth writing about. A job Giovanni hates, but excels in.

When a new waitress at his nightclub needs rescuing, Giovanni steps in to be her hero. Unfortunately, his behavior and reputation make him the last man she'd ever be interested in. It isn't until her life is threatened and she has no one to turn to that Giovanni is given a chance to show her what he's really made of.

Sasha Provis is a no-nonsense country girl from Wyoming who's not impressed with glitz, glamor or gorgeous Giovanni Ferraro. She's moved to Chicago to help her brother after an accident that took their parent's life. She needs the job at the nightclub, but doesn't need the drama. When a stalker takes things to the next level, putting her and her brother in danger, the only person there to help is the man she's trying to avoid at all costs. A man whose kiss should be outlawed and whose hands seem to know everything about what her body needs. Despite what she sees of Giovanni, there's something about him that makes her believe she can trust him. Something that convinces him he only tells her the truth. Something she feels, when their shadows touch.
Click here to learn more.
DARK SERIES:

09-04-2018
Dark Sentinel:
Andor Katona lay in a pool of his own blood satisfied to die with honor. He was an ancient, powerful and dangerous without the hope of finding a lifemate. Any one of his wounds would end his life and there would be no surviving them. He had spent his final years, a dark sentinel to the world of men. Fate had taken his sacrifice and left him dying alone in a gray world.

As those who would strike the final blow debated nearby, a cry came from the forest and an unusual woman, armed with a cooking pot and a hell of a roundhouse kick, emerged to fight for his life. He couldn't even stand to fight with her. And the woman didn't listen to a thing he said when he told her to leave. She spoke with great concern and mild sarcasm, and his world was flooded with color.

Lorraine Peters hoped to escape a devastating tragedy and find peace in the mountains. She'd seen enough blood and death to last her a lifetime. When she saw three men about to murder a defenseless man who lay bleeding on the ground, she found the courage to stop the senseless violence. A chance to redeem herself and save a life. She was trained in martial arts and knew how to fight. And she had a sauce pot. It never occurred to her that the man she was saving was the most dangerous she would ever meet. Or that he would bind her to him and keep her for all time.

The call for help brings the New Guard and a healer to aid the dying ancient. Immediately they all know a trap has been set. And that they are too late to save their brother.
A dangerous vampire with an evil mage's magic will do anything to get ahold of the women who can boost his power base. Though he hides after his brother's lost battle to the Carpathians, he has a plan and Lorraine is part of it. A new fight is coming. A war has begun. And not everyone will survive.