---
I have no control over the release dates given by the publisher. I have worked hard to get these books out to readers in a timely fashion but unfortunately, the publishing company has many difficulties in mapping out a line-up with books coming so close together. The dates are as listed, but please remember when they are given out far in advance, they are subject to change. I will do my best to let you know if there are any subsequent revisions to the schedule.

---
---
~RELEASE DATES FOR 2017~
I have no control over publication dates. All dates are subject to change. More dates to be posted soon!
---
---
---
~THE DRAKE SISTER SERIES~
---
---
~SISTERS OF THE HEART SERIES~
Bound
Together
Fire
Bound
Earth
Bound
Water
Bound
03/21/17
04/26/16
07/7/15
05/27/13
12/27/11
11/02/10
paperback
paperback
paperback

paperback

paperback

paperback
---
---
---
---
~WHAT I'M CURRENTLY WORKING ON~
LEOPARD'S SERIES:

Leopard's Blood: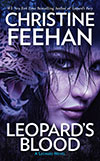 Every beat of her heart arouses the senses of a man who stalks the shadows...

Though born into a leopard's lair in the bayou, Joshua Tregre's fighting skills were honed in the rainforests of Borneo. Sleek and deadly, he's the perfect man to take over a crime syndicate back home in Louisiana's lush swamplands. His razor sharp instincts give him an edge in the violent underworld he knows so well, but even the watchful leopard inside him isn't prepared for the threat that comes from the girl next door...

She is a woman who can create beauty out of thin air—and out of the ruins of her own life. The games that dangerous men play have taken their toll on her, but she is bent, not broken. And it's her fierce spirit that's like a lure to Joshua, a temptation he can't resist—even if it means bringing his true nature into the light...
Click here for more information.



DARK SERIES

Dark Legacy: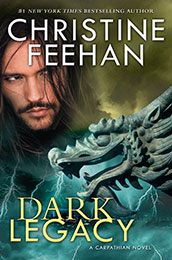 In a thrilling Carpathian novel from #1 New York Times bestselling author Christine Feehan, a woman fights to free herself from the grip of the vampire trying to possess her...

In a beautiful compound hidden away from the world, Emeline Sanchez tries to blunt the pain that has wracked her body ever since her terrifying ordeal in the labyrinth beneath the city—when she was forced to exchange blood with an evil master vampire.

Now, it's his voice that haunts her...that calls to her in the dark...that never lets her rest. And while the children that she helped to free from his clutches struggle to heal, watched over by their Carpathian protectors, Emeline knows one thing: she must sacrifice herself to keep them all from harm...

For her beauty is irresistible to the vampires, her psychic ability like a drug. Whipped into a frenzy, they'll never stop coming for her. And only the taste of one Carpathian warrior—the rush of his blood—can save her...

Click here for more information.
SHADOW SERIES: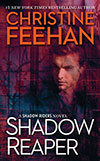 Shadow Reaper: #1 New York Times bestselling author Christine Feehan returns to her scorching hot series starring a Chicago crime family that has built its empire in the shadows...
Billionaire playboy Ricco Ferraro knows no other life. Being a shadow rider is in his blood but so is a haunting desperation stemming from the secrets of his dark past. His recklessness not only puts his life at risk, but the future of his entire family. To save them all, he must find a woman who can meet his every desire with a heat all her own...
Just when Ricco has given up hope, he meets her a mysterious woman whose shadow connects with his. She's someone looking for a safe haven from the danger that has stalked her over the last several months. In Ricco's embrace, she finds one. But the darkness in which they so often find sanctuary can also consume them...

Click here for more information