---
I have no control over the release dates given by the publisher. I have worked hard to get these books out to readers in a timely fashion but unfortunately, the publishing company has many difficulties in mapping out a line-up with books coming so close together. The dates are as listed, but please remember when they are given out far in advance, they are subject to change. I will do my best to let you know if there are any subsequent revisions to the schedule.

Latest News: My current release is a Leopard Series release (paperback) titled Leopard's Prey in stores, as of May 28, 2013

I also have a new Dark Series trilogy in the works and part one will be released September 3, 2013. The first book, Dark Lycan, has Fenris and Tatijana. Fenris is Dimitri's brother. I was so excited when he started talking to me because I knew his brother wouldn't be far behind! The second book, Dark Wolf is Skyler and Dimitri's story.. a story that is a decade in the making... and will finally be published in January 7, 2014!! The third book, Dark Blood, in the new trilogy is a Lycan hunter by the name of Zev who is lifemate to Bronnie, Tatijana's sister. It is scheduled to be coming out in Septembe of 2014. Dark Storm will be re-issued in paperback format as of August 27, 2013.

The next Sister of the Heart book, Air Bound, will be coming out in June of 2014. I'm hoping to get the cover for both Air Bound & Dark Blood posted soon. The paperback re-issue of Dark Lycan in paperback will be coming out May 2014.
---
---
~RELEASE DATES FOR 2013/2014~
| | | | | |
| --- | --- | --- | --- | --- |
| Book Title | | Release Date | | |
| --- | | --- | | --- |
| | | | | |
| | | May 28, 2013 | | Jove |
| Dark Storm (Paperback re-issue) | | August 27, 2013 | | Jove |
| Dark Lycan (NEW hardcover) | | September 3, 2013 | | Jove |
| Dark Wolf (NEW hardcover) | | January 7, 2014 | | Jove |
| Dark Lycan (paperback re-issue | | May 2014 | | Jove |
| Air Bound (NEW paperback) | | June 2014 | | Jove |
| Dark Blood (NEW hardcover) | | September 2014 | | Jove |
**Dark Wolf is a 2013 release but is coming out on January 2014.

I have no control over publication dates. All dates are subject to change. More dates to be posted soon!
---
---
---
~THE DRAKE SISTER SERIES~
---
---
~SISTERS OF THE HEART SERIES~
---
---
---
~WHAT I'M CURRENTLY WORKING ON~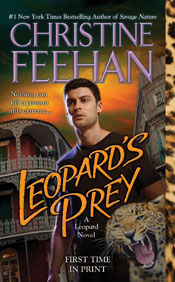 I'm currently working on Leopards Prey, my newest addition to my Leopard's series. It comes out May 28, 2013!!!
From a tough stint in the armed forces to stalking the unknown as a bayou cop, leopard-shifter Remy Boudreux has been served well by his uncanny gifts. And right now, New Orleans could use a homicide detective like Remy.
A serial killer is loose, snatching victims from the French Quarter with pitiless rage and unnatural efficiency. But something else is drawing Remy into the twilight -- a beautiful jazz singer bathed night after night in a flood of blood-red neon.
Sultry, mysterious, and as seductive as her songs, she's luring Remy deeper into the shadows than he ever imagined. And as their passions swell, his keen instinct for survival will be challenged like never before. By a killer -- and by a woman.